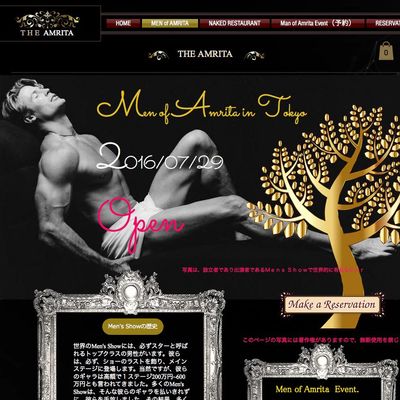 It looks like the au naturale dining trend has now infected Japan, where on July 29 a pop-up restaurant called the Amrita — the Sanskrit word for "immortality" — will begin offering people in Tokyo the world's most awkward first dinner date. Customers will dine in the buff but be required to don "paper underpants" provided by the restaurant to keep things, um, hygienic. According to Rocket News, it's supposed to be Adam-and-Eve-themed, although apparently very light on the Eve: The waitstaff is made up entirely of "men with the world's most beautiful bodies" serving tables in nothing but G-strings. (The website simply describes them as "muscle waiters.") Per the current trend, the menu is all-organic, but the true delight is the Zoolander-meets-Chippendales dance performance featuring "only the best of the best American and European male models."
This Tokyo pop-up does depart from its predecessors in its approach to body image, as the Amrita's creators are more than happy to engage in body-shaming: "We ask anyone more than 15 kilograms above the average weight for their height to refrain from making a reservation," the rules state. Also not okay are people over the age of 60 and anyone with a tattoo. Would-be diners whose weight looks iffy will be made to stand on a scale before dining. Cost of the meal — which runs from $112 to $563 per person — is done in advance, so the restaurant would probably advise people on the fence about whether they're of "average"-ish weight to sit the Amrita out.
On second thought, that may be fantastic advice for everyone.