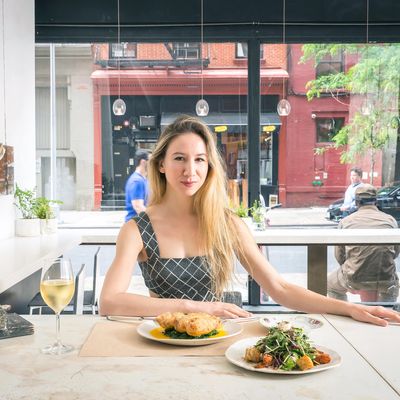 "I've always been a pretty adventurous eater," says Boylston, at ABC Kitchen.
Photo: Noah Fecks
"People are so shocked by my diet," says American Ballet Theatre principal dancer Isabella Boylston, who's currently performing at the Metropolitan Opera. "They have this idea that ballerinas just don't eat a lot. I suppose every dancer eats differently, but we eat more than people think we do. We work so hard! You literally have to get enough fuel." Boylston certainly bucks the stereotype: This week, she feasted on pasta (often twice a day), dined out at Prune and Bar Pitti, and even ate fried chicken with mashed potatoes and creamed spinach right before going onstage. Read all about it in this week's Grub Street Diet.
Thursday, June 2
I had an early meeting and drank two Americanos with whole milk and a large glass of OJ. I was running late, so by the time I got to the theater the canteen had switched over to lunch, so my breakfast was fried chicken, mashed potatoes, and creamed spinach. During the Met season — the eight weeks that we're performing there — you're literally in there all day, from ten in the morning to ten at night. Before the show I'd leave a few hours to digest, but with rehearsals you just have 15 minutes to quickly eat. You might not feel that great dancing after fried chicken, but it doesn't bother me! I'm not too sensitive.
For lunch a few hours later, I went to Indie Cafe and had half of a sandwich with soppressata and mozzarella, plus an arugula salad with peas and Parmesan. And I had a glass of black iced tea.
I hadn't seen my husband much the past week since I was performing, so we had a date night for dinner. We went to Prune — I love how it's small and intimate. My favorite thing is actually to sit at the bar there. The first dish I had at Prune and thought Oh my God was the monkfish liver. This time I had an Aperol spritz with a twist to drink, and I ate leeks with vinaigrette, raw radishes with butter and salt, and they sent over almonds with white sardines and celery, compliments of the kitchen. For my main course, I had duck with white beans and mint. So good!
I've always been a pretty adventurous eater, but I was raised on health food — my parents were into the organic movement, and we ate extremely healthy, bland food. I had never really eaten a cheeseburger as a kid! As soon as I moved to New York, I had a lot of food for the first time that I had never had before. Now I eat absolutely everything. I just did an interview recently about why I love New York so much, and I kept coming back to the food. When I go on the road to tour, I'm so excited to come back and have a New York bagel.
Friday, June 3
For breakfast, I picked up an iced coffee with half-and-half from Mud on my way to the subway. I was running late, so I grabbed an organic blueberry yogurt and a banana from the canteen.
I met up with my acting coach to talk about Romeo and Juliet, and we both had a gravlax-and-avocado sandwich with a pickle from Rex Cafe, with more iced coffee and half-and-half. I'm debuting in the role of Juliet in two weeks.
When you're growing up as a ballerina and your body is changing, it's harder to figure out your diet. But I feel like, by the time you become a professional dancer, you're dancing so much that you can't sustain an unhealthy diet. You won't be able to keep up with the demands. I don't really see a lot of eating disorders, actually, on the professional level. ABT really embraces diverse body types, too.
My snack around 4:30 p.m. was another yogurt and banana from the theater canteen.
I went to Cafe Orlin for dinner and had bruschetta with chickpeas and spinach, and then a mixed green salad with apples, carrots, and pumpkin seeds. For my main course, I had penne with chicken and mozzarella in a sun-dried-tomato cream sauce. I had a glass of organic Primitivo.
Saturday, June 4
My husband made me breakfast. I had fried eggs with ham and organic American cheese on a toasted cinnamon-raisin English muffin. On the side, I had sliced avocado with Frank's hot sauce. I poured some Stumptown iced coffee and added unsweetened coconut creamer. That's my favorite way to drink coffee in the summer.
I went to Epicerie Boulud for lunch and picked up vegetarian lasagna. I had Pellegrino and a large grapefruit juice to drink. I love pasta. I eat it a lot, and it's a really good food for athletes.
My husband cooked dinner again. We started subscribing to Blue Apron, which has been great for me to learn how to cook a little. Otherwise, the only thing I really know how to make is pasta. I've never really had time to cook. Tonight was lemon chicken with fusilli, and it was absolutely delicious. We opened a bottle of Cleto Chiarli sparkling rosé. Later, I was still a little hungry, so I had a fried egg with kimchee on a Kasanof onion roll from Whole Foods. My husband is Korean-American and we get all of our kimchee from Sunrise Mart in the East Village, and it is the best!
Sunday, June 5
It was raining a lot, so we decided to cook brunch at home. I poured some New Orleans iced coffee from Blue Bottle. Dan made eggs and organic bacon, and we had them on onion rolls with kimchee again.
For lunch, we walked around Brooklyn and stopped for ramen at Ganso in Boerum Hill. I had spicy miso ramen with bok choy, corn, pork, and bean sprouts. I drank New York tap water — the city's finest.
We made another Blue Apron meal for dinner. This one was wild-caught salmon with bulgur wheat, and we sautéed some spinach and zucchini to go along with it. I added some kimchee to mine.
Monday, June 6
I made fried eggs and ate them on a roll with organic American cheese. I drank iced coffee with unsweetened coconut creamer.
For lunch, I went back to Rex Cafe and had a gravlax-and-avocado sandwich with an arugula salad with cauliflower. Afterwards, I had an espresso macchiato and asked them to add a little chocolate to it, which was a great call.
After the show, I went to the Smith across from Lincoln Center and sat outside with a friend. I had the orecchiette pasta with chicken sausage and broccoli and a glass of Chardonnay. I always go out for dinner after a show. It's hard to eat before because I'm so nervous. When the nerves are gone, I'll just be starving.
Tuesday, June 7
I had an iced latte from Abraço — one of my favorite spots. I'm friends with the owners just from going there so much. They've come to see me dance. I picked up an egg-salad sandwich at Panya, a Japanese bakery, on the way to the subway.
For lunch, I had an iced tea and the vegetarian bánh mì from Indie Cafe.
Later, I had a coffee with a little half-and-half from the canteen at the Met and a chocolate-chip cookie. I actually don't really eat much sugar. I just don't really crave it. I know a ton of ballerinas who eat candy all day, and that's not me. I'd much rather have French fries with mayonnaise.
I sat outside at Bar Pitti and had the rigatoni pitti with a side of spinach and drank San Pellegrino for my dinner. So good!