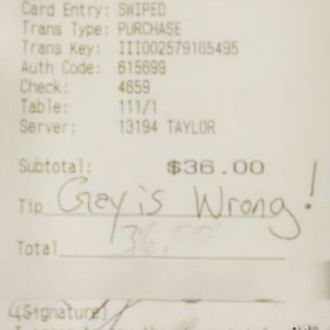 Three Oklahoma children got a lesson this week in how to never, ever treat servers when their father left an IHOP waitress a hateful anti-gay message instead of a tip. Server Taylor Stewart was finishing a long double shift when the family sat at one of her tables. "I messed up one of the things on their order," she recalls, "so I mean I fixed that with no problem, but he was just kind of being rude to me the whole time." Stewart says she yelled out as they left, "Have a good night, sir. Come back and see us," but the man ignored her and stormed out. When she went back to the table, she discovered a not-inconsiderate mess and saw the guy hadn't tipped her a dime on the $36 bill.
It took some handwriting decryption, but she eventually figured out what the guy's problem was:

"When I went to pick up the check, I read it and I thought it said, 'Gray is wrong,' and I went and showed my girlfriend, and she was like, 'What?' And she said it said, 'Gay is wrong,'" Stewart said. "I was just shocked. I was more shocked than hurt, but I mean it did

hurt."
The lunatic yet very popular idea of leaving hateful, sermonizing receipts has even started pissing off pastors lately. Since this customer at IHOP escaped anonymously, it's likely he'll live to strike again, making him sort of the bigoted yin to Tips for Jesus' yang.
[KFOR]