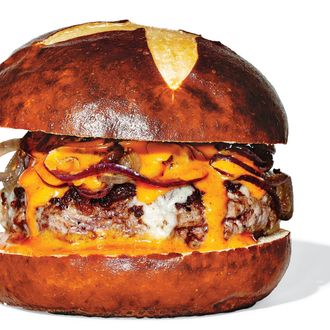 Emily's fantastic burger.
Photo: Bobby Doherty
Increasingly, chefs across New York are putting their own stamps on the classic cheeseburger — and few have had as much success as Matt and Emily Hyland at Clinton Hill's Emily. New York restaurant critic Adam Platt and Grub's own Alan Sytsma sat down with the Hylands to discuss the conception of their now-famous $19 dish. They use dry-aged beef, a pretzel bun, caramelized onions, Grafton cheddar cheese, and a "happy accident" of Korean wing sauce mixed with aioli. "It's not a cheap burger and it's not an expensive one," Matt says. Listen to hear how he drew inspiration from, of all places, Wendy's, in this episode of the Grub Street Podcast.
[iTunes, Soundcloud]