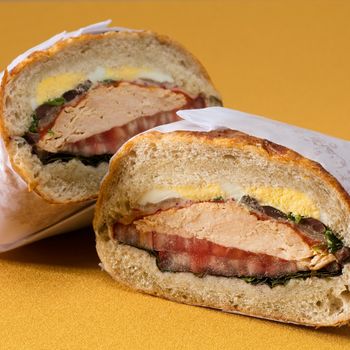 Shelsky's pan bagnat is a cross between a muffaletta and tuna niçoise.
Photo: Melissa Hom
Not that any other rationally minded gourmands would disagree, but as far as Grub is concerned there is no such thing as sandwich season. Anytime is a good time to eat a sandwich, and New York's chefs and deli masters continue to introduce excellent new creations, variously stuffed with cured or roasted meats, and takes on old classics. Here, five ones to check out this summer.

Tuna Pan Bagnat
Where: Shelsky's
Price: $11
It's like a muffaletta for fish-sandwich fiends. At the Court Street store, day-old campagna bread from Orwasher's is first dressed with olive oil and white-wine vinegar. It's then stacked with ingredients inspired by the classic niçoise salad, including red leaf lettuce, sliced tomato, Kalamata olives, hard-boiled egg, anchovies, and Spanish tuna. The sandwich is then pressed overnight, so the bread becomes soft but not soggy and it all conforms neatly together. One caveat: Only six are available on Saturdays and Sundays.
Le Big Matt
Where: Emmy Squared
Price: $22
Matt Hyland serves one of New York's most impressive and lusted-after burgers at his and his co-owner and wife Emily's original Clinton Hill pizzeria, so of course he's created another awesome burger for his white-hot Williamsburg spot, Emmy Squared. Here, the beef is fresh (unlike at Emily) and comes as a double stack with white American cheese, pickles, and lettuce, on a pretzel bun. Juicy and messy in the right away, it's served with waffle fries and typically only available Friday and Saturdays in the downstairs burger bar, and daily during lunch.
Cheesesteak
Where: Amada
Price: $16
Jose Garces' first New York restaurant, an outpost of one of his Philadelphia spots, specializes in Spanish cuisine, and his menu features dishes like rabbit paella. But during lunch, the chef serves an homage to his home base: a cheesesteak made with shaved rib eye, caramelized onions, wild mushrooms, and a fondue made of mahón, the buttery Spanish cheese.
Dagwood Sandwich
Where: Momofuku Nishi
Price: $22
Part of Nishi's just-debuted brunch menu, the Dagwood is a bit of Americana (it's inspired by a sandwich-loving character from the Blondie comic strip) and a total monster. It's a multilayered creation stacked with ingredients: country pork pâté; cured mackerel; and roasted chicken; plus a trio of spreads in hozon remoulade, dijonaise, and Ssäm Sauce special sauce; and lettuce, tomato, onion, and pickles. You will almost certainly take a nap after.
C.B.E.
Where: Southside Coffee
Price: $12
Josh Sobel, it's been noted around these parts, knows his way around a breakfast sandwich. For the summer breakfast menu at his South Slope café, he introduced a new, much different spin on the morning bread and meat ritual. Called the C.B.E., it has corned beef with Swiss, eggs, pickles, and Russian dressing on rye.