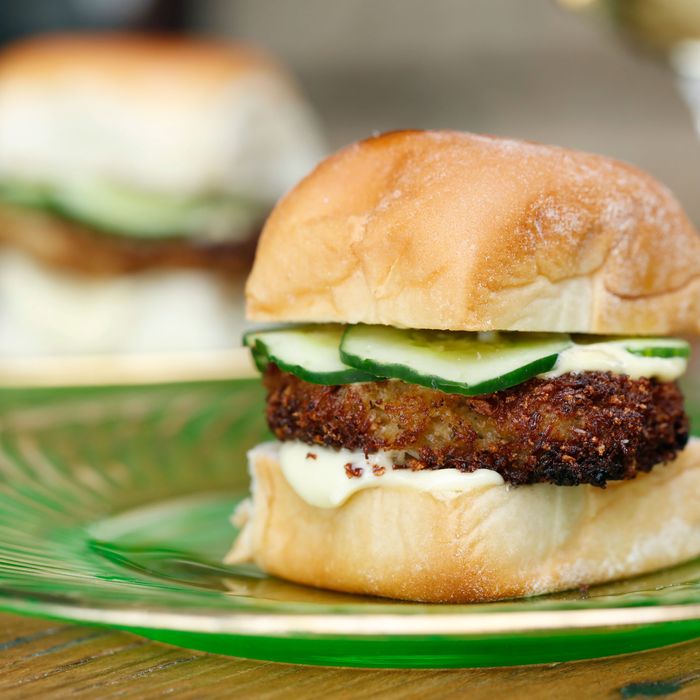 The crab-cake sliders at Zadie's Oyster Room.
Photo: Melissa Hom
As anyone who pays attention to what goes on in the world has certainly noticed, the news has been particularly depressing lately. Brexit. Basically anything Trump says or does. You can't even eat raw cookie dough anymore. In fact, you may be feeling like all you want to do is stay inside watching Netflix. Luckily, food and restaurants can help provide a respite from the ills of the world. Here now are a dozen dishes that are so good and reassuringly familiar that they will help you forget — at least temporarily — how bad the news can seem these days.
Crab-Cake Sliders
Where: Zadie's Oyster Room
Price: $16
Marco Canora's oyster-themed rebranding of his East Village wine bar offers non-bivalves, too, like these crisp crab cakes tucked into slider rolls and topped with cucumbers and aioli.
Pastrami Sandwich
Where: Great Northern Food Hall
Price: $12
There's plenty of pastrami to go around in this city, and Noma co-founder Claus Meyer is happy to give you an excuse to eat some more. At his just-debuted midtown food court, the kitchen uses smoked beef brisket, red-onion relish, mushroom mayo, bitter greens, and crispy shallots for a Nordic take on the Katz's classic.
Masala Fried Chicken
Where: Tapestry
Price: $26
If you could really use the comfort of fried bird but are still recovering from the Great Fried-Chicken Craze of 2015, head to Tapestry. Chef Suvir Saran seasons his crispy bird with a masala spice blend; swaps out American potato salad for aloo bharta, or Indian mashed potatoes; and completes the plate with peanut slaw and tomato chutney.
Yang Chun Noodle Soup
Where: Hao Noodle and Tea
Price: $10
Short of grandma's chicken soup, there aren't many noodles more soothing than this take on the Suzhou street food. The well-balanced broth is made with bone marrow and scallions, and the thin noodles are ideal for slurping and make it taste like everything you wish your dorm-room ramen had been.
Crispy Soft-Shell Crab
Where: Freek's Mill
Price: $25
The Gowanus restaurant's take on soft-shell crab is enlivened with sambal and served with boy choy and cashew butter.
Root-Beer-Glazed Ribs
Where: BKW
Price: $22
Sticky ribs are an essential backyard-barbecue dish, and they do right by them at Brooklyn Winery's Crown Heights restaurant, glazing them in root beer and pairing them with baked beans, Tuscan kale, and an Asian-pear slaw.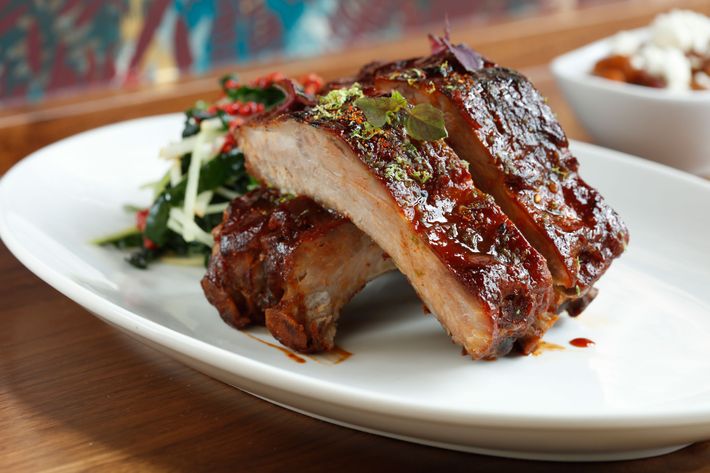 Roast Pork Lo Mein
Where: Hey Hey Canteen
Price: $13
Lo mein is unarguably one of the great delivery dishes. Turn off the Netflix and head to this Cantonese restaurant for an upgraded version, made with glazed and roasted Berkshire pork, bok choy, crispy garlic, and ramen noodles.
Sloppy Jay Sliders
Where: August Laura
Price: $4
It's almost certainly been too long since you've had sloppy joes. Over in Carroll Gardens, the Italian cocktail bar serves a spin on the old-school sandwich: sweet Italian sausage, tomato sauce, and a mix of provolone and American cheese.
Lou-Wow
Where: Emmy Squared
Price: $19
The pan-baked, Detroit-inspired square pizzas at Emmy Squared taste like a much better version of fast-food pizza — in the best possible way. Go all in on nostalgia with the Lou-Wow, their take on the Hawaiian pie, made with cubes of spicy pineapple, some of which deliciously caramelize, and thinly sliced ham. Plus, the fried cheese crust will absolutely make you feel better.
Bucatini alle Vongole
Where: Café Altro Paradiso
Price: $22
For lunch, chef Ignacio Mattos serves an uncomplicated bowl of bucatini, the spaghetti-like tube pasta, with vongole, or tiny, intensely flavorful Italians clam. He keeps it simple with garlic, chili, and lemon — not that anything else is necessary. Lunch is currently only available during the weekends, but they'll launch weekday service on July 6.
Mousse au Chocolate
Where: Le Coucou
Price: $12
They're already doing good work at Daniel Rose's American debut, where you'll find plenty of French classics executed uncommonly well. In this era of savory ice cream and conceptual desserts, though, there's just something necessary about the straightforward appeal of a well-done mousse au chocolate.
Pie Sundaes
Where: Ample Hills
Price: $11
Days like these, a regular sundae isn't enough. What you need is a sundae — made with really good ice cream, mind you — served over a slice of all-American pie. At Ample Hills' newest location near the High Line, they come in combinations like a sour-cherry pie with vanilla ice cream, caramel, whipped cream, and rainbow sprinkles.