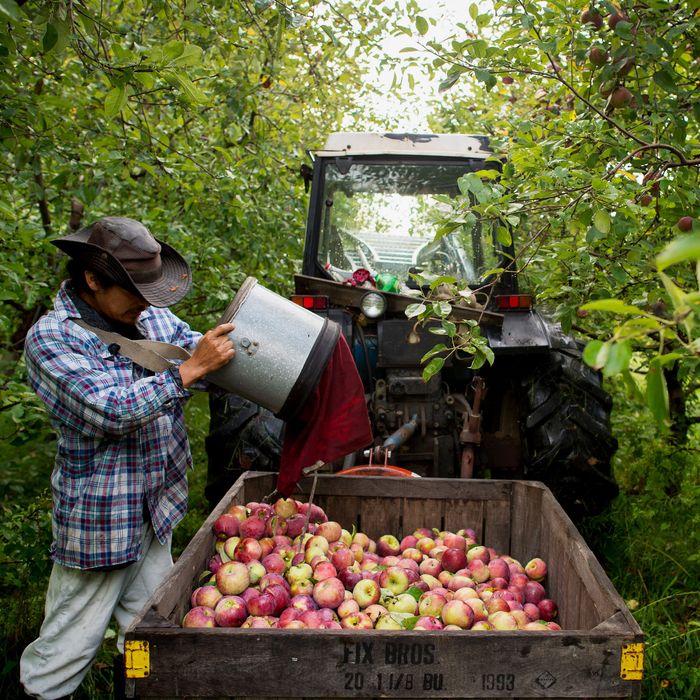 Bring on the apples.
Photo: Craig Warga/Bloomberg via Getty Images
Unusually cold weather threatened the Northeast's fruit supply this spring, but at least apple farmers finally have something to smile about. New York governor Andrew Cuomo's office announced last week an investment of $56,874 to support the development and testing of apples for the production of hard cider, which some have predicted for a while will be the next big drinking trend. Cuomo has been on a bit of a boozy tear lately, just recently throwing his support behind drinking while brunching before noon, and this sounds like good news for the local industry.
"Cider makers are actively seeking apple varieties that produce more characterful ciders," Cider Guide writer Eric West says, "so this funding could have a significant long-term impact on New York's cider industry."
The funding will go to the New York State Agricultural Experiment Station, a facility in the upstate town of Geneva that's been diddling with local flora since shortly after it was established in 1880. The funding was announced as part of a $1.1 million package of projects promoting agriculture in the state. According to Gregory Michael Peck, Ph.D., an apple researcher affiliated with the station, the research will increase both the yield and quality of hard-cider apples in New York.
It could be a sign of a broader commitment to fermented apple juice. The governor's office has been vocal about promoting "cideries" in the state — Cuomo used the word in his 2016 State of the State Address — seeing opportunities for economic growth in the burgeoning sector, which also includes wineries and craft brews. Cider-friendly politicians attribute their support to the economic benefits of the beverage. New York is the second-largest apple producer in the country, so it's primed to take advantage of the increased popularity of the drink, which consumers have made the fastest-growing adult beverage in the world.
"We have to overhaul the prohibition-era SLA laws that are way overdue and are an obstacle to growth and we have to do it this year," he said during his address.
The governor, who added cider to the name of his third Wine, Beer, Spirits and Cider Summit last October, has also supported extending a tax credit to cider-makers, wineries, and distilleries that so far has only existed for small craft-beer-makers. Meanwhile, Democratic senators Chuck Schumer and Patrick Leahy have also jumped on the cider wagon. In 2015, the two sponsored the CIDER Act, which passed that December and raised the bar for the beverage's allowable alcohol content.