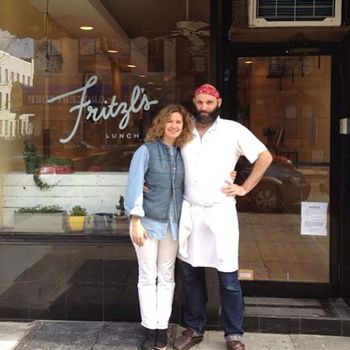 Dan Ross-Leutwyler and his wife outside Fritzl's.
Photo: Courtesy of Fritzl's Lunch Box
After three years of burgers and beer-battered broccoli, Bushwick neighborhood favorite and brunch destination Fritzl's (née Fritzl's Lunch Box) will close for good this Sunday. Chef-owner Dan Ross-Leutwyler, who announced the decision in an Instagram post, is a New York native and worked in kitchens at restaurants like Roberta's and Fatty Cue.
The restaurant was perhaps best known for its charred-miso-mayo-topped burger, but in a larger sense it was the sort of generous, laid-back place everyone wants close to their apartment, featuring cooking that was familiar enough to ground a neighborhood spot, but with the sort of minor tweaks (like wings marinated in salsa) that keep things interesting. Grub got on the phone with Ross-Leutwyler to talk about why he's proud of the restaurant, what went wrong, and the tribulations of running a neighborhood spot in a New York where people increasingly want things in an on-demand fashion.
It came out in March that you were considering selling the restaurant. Did you ever look back from that?
Not really. I pretty much have burnt myself out. It's just all the things I used to enjoy about the job and having my own business sort of became a pain in my ass. I guess when I realized that's the way I felt I knew that nothing was going to change that situation short of changing my circumstances. This business at this time, in this place, just became something that I really didn't want to do anymore. So, you know, it's bittersweet for me. On the one hand, I'm proud of everything I accomplished. On the other hand, I wish I was more canny as a businessman and could make it work. It's tough.
Based on our previous conversations, it seems like you'd hit the point where you could step back and have things run well, and then it would slip through your fingers.
Yeah. I mean, there's just a lot of ebbs and flows in this particular business. And some weeks you think you're going to crush it, the weather is beautiful, and then it's playoff basketball or there's a debate or there's Game of Thrones or whatever it is. There are so many things that are beyond your control that it makes planning very hard. The winter before last was absolutely brutal, and I don't think my business ever fully recovered from that. It was just incredibly cold, incredibly brutal, and business suffered. The business didn't get back to where I was in terms of sheer volume. I had to let a bunch of people go. It put a lot more of the burden of running the kitchen day-to-day on me. It just wasn't something I could continue to do.
Other restaurants, like 606 R&D; Foods, closed because of that winter.
A winter like that is very easy to point to and say, "That's why." But there's really any number of things that happen on a micro, week-to-week level that accumulate over time. I think for me the winter just signaled this tipping point, this point of no return. There are things I could've done better, if I had been a better businessman, absolutely. But, yeah, the climate for these small, neighborhood "mom-and-pop" restaurants is really difficult and scary for a lot of people. It's incredibly difficult. There's lots of things that I'm proud of. I've always tried to pay people as much as I can at the expense of my income. For eight months I've basically been working so my staff can get paid. That's a bit of an exaggeration, but it's like, you know, what's the point? Still, the outpouring of support — I can't emphasis how much that means to me.
I think I remember before that you had been able to step back for a time.
Definitely. For me, having the free time to not necessarily be there in the kitchen was a huge relief. But it also meant giving up a lot of oversight and responsibility, and that also comes back to bite you in the ass one way or another. Whether it's through ordering or people are working many more hours than I would like them to or you hear from friends that a dish wasn't the way it usually is. At the time I was grateful to have the time off, so I was willing to overlook, uh, a lot of things that have had a lasting impact on the business as well.
Was it just high rent or other factors that made recovering from that bad winter so difficult?
There are a lot of factors at play. I think that as a businessman you have to be willing to adapt in a lot of ways, and I think the whole GrubHub, Seamless, Caviar thing has been a boon to a lot of businesses. But for me it really hasn't been. I never imagined that at Fritzl's 20 to 30 percent of my business would be to-go. So I never built it to do that. For me, my ideal customer comes in, they have burgers, if I'm lucky they have a beer and maybe a little snack. But when you're doing Caviar, all that goes out the window. I lost the ability to sell the things that I can actually turn a profit on, and that's primarily alcohol and beer. I'm super happy these customers can have the food in the comfort of their own home, but it's difficult because I lose the ability to sell everything that I actually turn a profit on.
Do you feel like these services aren't as good for places like Frtizl's?
It's not good for me because I'm sort of unwilling to compromise on things like the ingredients I use. I can't push my bottom line much further than it already is without feeling bad about it, without compromising on my principles. Caviar: I can only speak for myself, but there's someone who can sell a burrito filled with rice, beans, and a cheaper meat and absorb the 25 percent Caviar takes — I can't compete with that. And I don't really want to. But in this sort of on-demand climate, that's what people want.
In 2014, you told me that part of what you wanted out of Fritzl's was to "give your son a future." Now you're closing the restaurant to spend more time with him and your wife.
I don't want to go too negative, but it became pretty apparent that Fritzl's was never going to make enough money to support me and my life in a way that made the sacrifice worthwhile. That was sort of the ultimate calculus in deciding to close it. But I can hopefully still work, do what I do well, be happy, be generous, be fulfilled, and make more money and hopefully work less. That should be everyone's goal in whatever you do. Part of that was because of decisions I had made, business-wise, that were not smart. And a lot of it is just due to physical and mental exhaustion.
What would you have done differently?
My single biggest mistake, that I regret from day one, is not having a partner. That's left me responsible for a whole host of things that I don't really know how to do or have any interest in doing. That's the thing that I always come back to as what I could have done differently: bringing in a managing partner to share the burden and let me focus on what I think I'm really good at.
I probably would've been more aggressive in trying to stay open seven days a week and to continue doing lunch as well. You know, I've never been someone who has cared much about social media. I probably would've pushed for an expansion of delivery instead of shutting it down; I started with Caviar a few months ago and basically get one order a night. I feel like if I pushed harder to do that I might not be in the same situation as I am now. I'm a stubborn person. People want things I don't want to do. Like put bacon on a burger, put tomato on a burger. There are probably things I could've done, things menu-wise, that would've made it more of a destination to people. I know what I know how to do, and I'm too old to change in a lot of ways. I guess I think about all those things, but they also make this place what it is. And the people who appreciate it, appreciate it.
Yeah, Fritzl's has a personality that doesn't seem contrived or calculated — which can be missing from a lot of places around here.
That's why it's hard not to look at this closing as a failure — as a rejection of sort of me. That's a bitter pill to swallow in a lot of ways.
What comes next?
This probably sounds crazy, but I really have not given it that much thought. I'm just trying to get through this week, let the dust settle, and take as much time as I can to figure out what my next move is going to be. There are a lot of opportunities out there, more ways to earn a buck than there were 15 years ago when I started. I really want to explore all my options. It's something that's going to be fulfilling, [and help me] make the money I need to make, and live the sort of life I want and need for my family. I wouldn't rule out a chef job at this point, but it'd be very difficult seeing myself go back to working 60 to 70 hours a week at this point in my life.