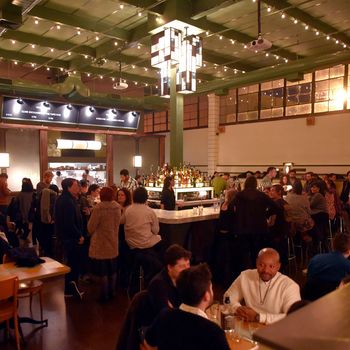 Watch Top Gun and eat cider-glazed ribs at Syndicated on the Fourth.
Photo: Michael Tulipan
Plenty of people flee New York on Fourth of July weekend, which means it's one of the best times of the year to enjoy the city, when it's a little less crowded and everyone feels extra celebratory. Not only is it easier to nab seats at some of the city's best restaurants, but many top spots host parties and cookouts and feature special dishes and drinks. Sure, you can always head to Coney Island, but here are 14 other top-notch places to celebrate America this weekend.
The Gatehouses at Kings County Distillery
When: 3 p.m. to 10 p.m. on Monday
The Brooklyn distillery (co-owned, full disclosure, by a New York editor) will use its holiday celebration to help raise funds for Pulse employees, survivors, and the victims' families. At its Gatehouses space, the distillery will host world hot-dog-eating record holder Takeru Kobayashi for a hot-dog-a-thon and ask guests to sign a form pledging money for every dog he eats. There will also be a dunk tank, where friends can dunk you for Pulse; drag queens; Fleischer's hot dogs and hamburgers; Popsicles from People's Pops; and, of course, lots of whiskey. Bonus points for the prime views of the fireworks.
Syndicated
When: Noon until midnight on Sunday and Monday
To celebrate the holiday, Bushwick's combination restaurant, bar, and movie theater will pair classic American movies with cookout-inspired specials. The $25 prix fixe menu features one can of Narragansett with your choice of cider-glazed ribs, gunpowder-spice-seasoned grilled chicken, a Pulp Fiction–themed "Bacon Royale," and family-style sides like cornbread with honey butter. Movies ($3 a pop) include Men in Black and All the President's Men on Sunday, and Top Gun and Born on the Fourth of July on Monday.
Rippers
When: 6 p.m. to 9 p.m. on Monday
If you can't escape the city for the beach, there's always the Rockaways. The party animals behind Rippers will host rock band the National Reserve for a concert from 6 p.m. to 9 p.m., and they'll serve burgers and beer all day long, as usual.
Saxon + Parole
When: 2 p.m. to 7 p.m. on Monday
The Bowery restaurant's ticketed event ($65 per person) will include lawn and drinking games, including Twister and a beer-pong tournament. There will also be a DJ, more backyard-barbecue-themed food like pies and pulled-pork sliders, and, most important, lots of booze: alcoholic Popsicles, beer slushies, Goose Island on tap, and discounted cocktails.
Eastfield's
When: 10 a.m. to 4 p.m. for brunch and 5:30 pm to 11 p.m. for dinner
The new Upper East Side bar from the team behind the Eastpole will serve brunch during the day, along with special red, white, and blue cocktail the Minuteman, made with white-lightning corn whiskey, strawberries, and blueberry shrub.
Back Forty West
When: 6 p.m. to 8:30 p.m. on Friday and Tuesday
Here's your chance if you're out of town during the holiday but still looking for an excuse to celebrate in the city. Kick off the long weekend at a special Friday edition of the Soho restaurant's Chesapeake Bay–style crab boil, which goes for $58 a head, or get back into your New York groove during the weekly Tuesday edition. Seating is communal, and spiced crabs are served with sides like corn on the cob and potato salad and fruit cobbler for dessert.
Tiny's and the Bar Upstairs
When: 5 p.m. to midnight on Sunday and Monday
The Tribeca restaurant will host a prix fixe barbecue-themed dinner, for $35 per person, on Sunday and on the Fourth of the July. The Sunday meal will include half a barbecue chicken with sides like potato salad and a butterhead-lettuce-and-peas salad with green-goddess ranch, and on Monday there will be burgers, housemade cherry pie, and grilled hot dogs rolled with cheese, pickles, and whole-grain mustard in brioche.
The Dutch
When: 11 a.m. to 9 p.m. on Monday
Andrew Carmellini & Co. will throw an all-day luau at their Soho restaurant, featuring teriyaki chicken wings, Hawaiian doughnuts, luau-themed cocktails like a My Thai (rum, tamarind, orange liqueur, lime, lemongrass), and backyard games like putt golf and cornhole.
North End Grill
When: 11:30 a.m. to 10:30 p.m. on Fri; 11 a.m. to 10:30 p.m. on Saturday; 11 a.m. to 9 p.m. on Sunday; and 11:30 a.m. to 10 p.m. on Monday
There's a shellfish bake every night this long weekend at the Battery Park City spot. For $45 a head, you'll get a half-lobster, head-on prawns, and littleneck clams, plus new potatoes, corn, sweet gem lettuce, and Maytag blue cheese.
Riverpark
When: 6 p.m. to 9:30 p.m. on Monday
For those looking to get a little fancy while enjoying a prime view of the fireworks, there's this waterfront restaurant's annual barbecue ($275 per person, $50 for children). Along with Texas-style smoked brisket with charred chile barbecue sauce, a whole pig roast, and a spicy seafood boil, they'll have passed desserts like brownie sundaes, an open bar, and games like bocce ball and ping-pong.
Hometown Bar-B-Que
When: Noon to 10 p.m. on Monday
They normally take Mondays off at the smoked-meat palace, but pitmaster-owner Bill Durney's crew is making an exception for the Fourth of July. Nothing says America like giant beef ribs and fusion 'cue like a lamb belly bánh mì, after all.
Fancy Nancy
When: 6 p.m. to midnight on Saturday
A couple of days before the Fourth, the comfort-food spot will host a rager (beachwear encouraged) for everyone still in the city. There will be punch bowls, all the food you can eat for $25, and unlimited Budweiser for $10. The menu includes country fried chicken wings with honey-buffalo butter, a farro-and-wilted-kale bowl with sweet corn, and a watermelon-and-cucumber salad.
Maison Premiere
When: Noon to close on Monday
As in the past, the Williamsburg absinthe den and oyster bar will serve backyard barbecue specials and host the Bedford Avenue Society Band for live music throughout the day. No reservations are accepted until regular dinner service at 7 p.m., so it's first come, first served.
The Gander
When: Noon to 8 p.m. (food from 1 p.m. to 3 p.m. and 5 p.m. to 7 p.m.) on Monday
Homemade corn dogs, smoked chicken wings, and more will be available at the Flatiron spot's third annual Fourth of July party ($120 per person), along with unlimited draft beer, holiday punch, and boozy slushies.