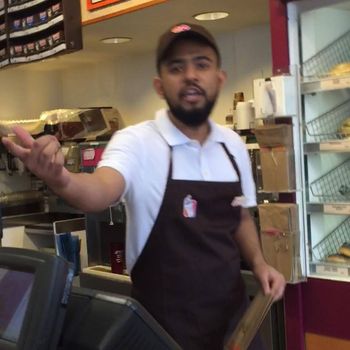 Photo: Peiyin Shih/Facebook
Dunkin' Donuts is suffering a PR nightmare of gigantic proportions right now, all because it won't apologize for a racist employee's mistreatment of a customer. Back on Memorial Day, Peiyin Shih tried ordering a glazed chocolate doughnut from a Dunkin' Donuts in Forest Hills, Queens, and had this incident unfold:
She speaks in accented English, which was apparently a comedic goldmine for the employee on duty. "Yaibur C." apparently insisted it's store policy for customers to "say the whole name" of whatever they're ordering. Shih says she told him, "You just want to make fun of me," and demanded he give her his name. "He point his name tag & say 'Here is my name. Do you know how to say it?'" she explained on Facebook. "I insist to see the manager." At this point, Shih says another customer, presumably annoyed at the holdup, got physically in her face, forcing her to call the police while Yaibur allegedly laughed.
Her post has been shared 16,000 times and gotten 31,000 of the new "Angry" and "Wow" emoji reactions. Whoever runs Dunkin's Facebook page responded within 30 minutes, but unfortunately it was with a very boilerplate "Hi! Very sorry to hear this!" Shih wrote back and posted this pic of the customer she says threatened to destroy her cell phone:
Angry people, many of them Asian, started lashing out at Dunkin' Donuts right after that — and they haven't slowed down yet, a full nine days later. For instance, a Facebook post for "National Doughnut Day" last Friday quickly collected 60-some comments like "buy one donut, get one racial discrimination free?" and links to negative media coverage. One commenter noted, "Thank you so much for uniting all the Chinese in the world! It's such a hard task!" Because Dunkin' isn't super-active on Facebook, the angry hordes have started taking over the comments sections of months-old posts.
The store's manager told Voices of NY that the company fired the employee, but the consensus online is that the incident warrants an actual, official apology. The company kind of came halfway — it's now replying to bad comments by pasting in a generic acknowledgement of its worker's stupidity ("The type of conduct alleged by a franchisee's crew member in no way represents our company's strong commitment to the fair treatment and well-being of all guests"), but, as anyone might imagine, plenty are still ticked.
The story has actually grown into a bona fide international incident by now, with a publication in Taiwan even going so far as to produce animated dramatic reenactments of Shih's exchange. Dunkin' Donuts has an aggressive and also growing presence in Asia — it introduced a faux Cronut in Korea to much fanfare — which really makes the corporate office's decision to sit this one out perplexing, to say the least.