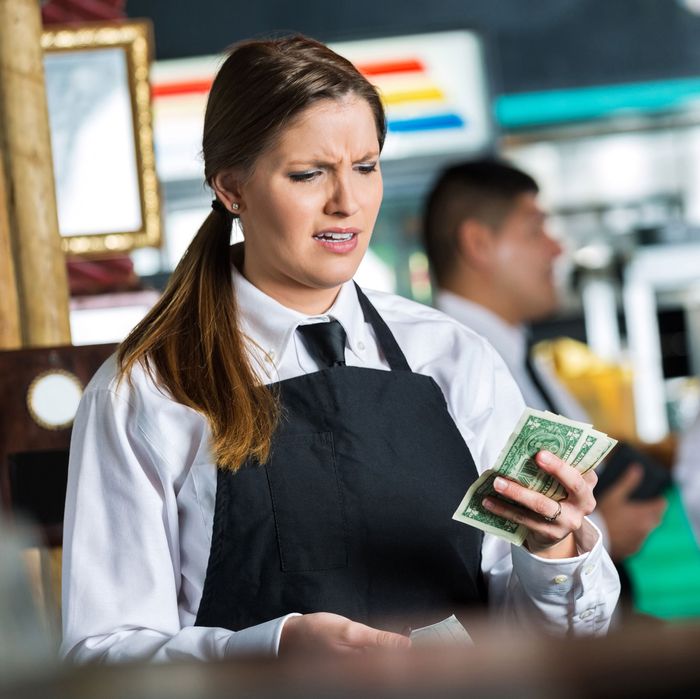 Oops.
Photo: Steve Debenport
A man who was feeling reeeeal good after eating at a Denver Thai restaurant this weekend had to sheepishly ask the staff to return the $1,088 tip that just about made his server's year. Bee Anantatho, owner of Thailicious, tells the Denver Post her restaurant has been amassing a pretty loyal clientele lately, so she and her employees thought maybe some particularly enthralled customer had decided to show his gratitude by leaving a 1,800-percent cash tip on about a $60 tab.
Understandably, the waiter "was so happy," but she said something felt intuitively off, so she suggested they not cash it out just yet — in case the guy returned. Which he promptly did the very next morning, now full of regrets. "He said, 'I'm sorry, I was drunk,'" Anantatho recalled. "He didn't know he put all the money he had in the checkbook." He admitted he'd thought some of the multiple $100s he left had been singles (like, maybe the U.S. Mint had started printing $1.00 bills or something?).
In the end, Anantatho felt sorry for the guy, so she refunded the full amount, and feeling like he owed them, he handed her $100 to cover his dinner and the tip. Forty bucks doesn't come to much, all things considered here, once you factor in the tipped minimum wage is $2.13 and the amount is split among the staff, but Anantatho at least feels like she did right. "I think he will come back," she told the paper, possibly to the servers' chagrin.