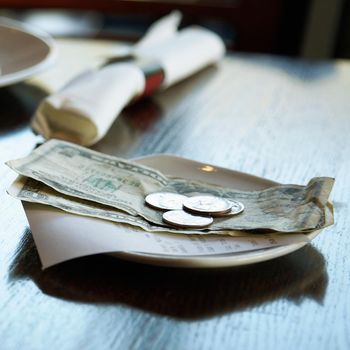 Not necessarily a thing of the past.
Photo: Flint/Corbis
When Grub ran into Danny Meyer at this year's MoMA Party in the Garden, we asked him, of course, about the state of his no-tipping policy and the difficulties faced by his fellow restaurateurs making the change. Despite the generally positive reception, the transition away from the antiquated tipping system hasn't been without its hiccups, and some high-profile restaurateurs have reverted back to more traditional gratuity setups.
"It's challenging," Meyer told Grub. "I would be the last one to say it's easy, but it's working really well for us … I think it's a really hard thing."
That hasn't dissuaded many from making or wanting to make the change, however. According to CNBC, a new survey of 503 American restaurateurs by the American Express Restaurant Trade Survey found that nearly half have either adopted or plan to adopt a no-tipping policy. While 18 percent of those surveyed say they've already made the move and 29 percent intend to follow suit, only 27 say they're pro-tipping and won't budge. Another 10 percent declared themselves undecided, while 17 percent of those say they might make the move if more of their colleagues do.
When asked how USHG has made it work, Meyer says communication is key, though he's certainly benefited from being ahead of the curve in New York: "Just an enormous amount of communication and passion for why it's important to create a better working environment for people in our kitchen as well as people dining."
It's not full steam ahead for a totally tip-free future, of course, and the policy hasn't worked out for everyone. Joe's Crab Shack became the first chain to adopt the policy last year, but it struggled with customer complaints, and in New York Gabriel Stulman announced a return to gratuities at Fedora last month. Brooklyn restaurateur Andrew Tarlow expanded his no-tipping policy to his Williamsburg hotel restaurant Reynard last month, but he ran into trouble with the staff at his first restaurant to make the change, the trattoria Roman's. Out in San Francisco, three restaurants that eliminated tipping or opened gratuity-free at the beginning of last year also reverted to a tipping model because of issues with staff or economics. Which isn't a stab against no-tipping policies — just more proof that the transition will be complicated for most restaurants. And just this week, David Chang eliminated the no-tipping policy that his newest New York restaurant, Momofuku Nishi, had been using since opening.
Even Meyer is being cautious about rolling out his so-called "Hospitality Included" program at all of his restaurants, saying he hopes they will have all moved over by 2017.