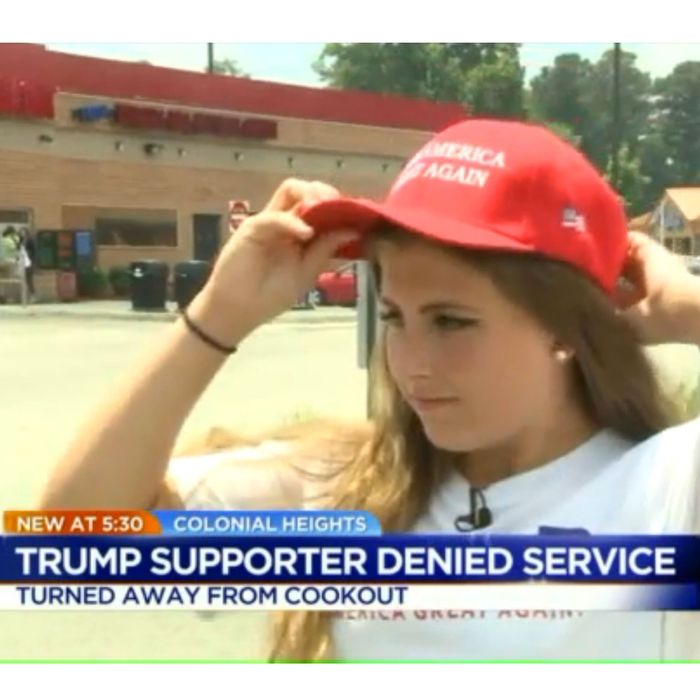 Workers "had this sense of anger."
A family of Donald Trump supporters says it's time to make America great again for people who want to eat at the southern burger chain Cook Out. Shannon Riggs and her cousins apparently worked up an appetite cheering at a Trump rally Friday night in Richmond, Virginia, so on the way home they stopped for fast-food burgers — a meal that'd get their candidate's enthusiastic stamp of approval — while still dressed in campaign T-shirts and "Make America Great Again" hats. They got harassed because they were dressed in full-on Trump-campaign garb, they say.
"As soon as we got to the window, it was 'Oh hell no, I'm not serving them,'" Riggs tells WTVR. "They kind of shuffled back and forth with three people to take our order. … Everybody was laughing, giggling, and they went and got the people from the back."
The three women were eventually allowed to order, but Riggs says it was a fake-out: When an employee yelled out that the order was ready, her teenage cousin walked over to grab the food but was told, "Oh not for you!" More chuckling followed, and at this point the family just demanded a refund and called up the corporate offices to complain. A Cook Out rep released a statement assuring customers that they're a politically neutral company, and that the incident was "resolved that night per Cook Out policy" (that is, apparently, free food coupons that Riggs rejected).
Riggs hopes the Cook Out workers at least learned a valuable life lesson — that "you should not be discriminated based on who you support, whether it be Bernie, Hillary or Mr. Trump."
[WTVR]