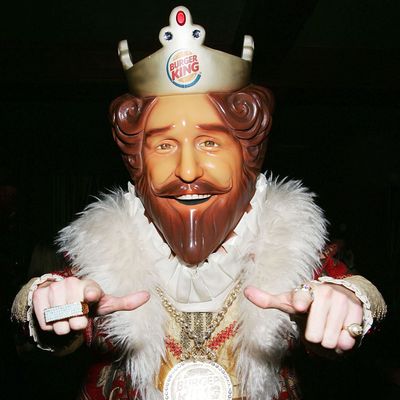 Time for some Burger Queens.
Photo: Evan Agostini/Getty Images
Burger King is learning firsthand that putting your company entirely in the hands of men is not the Canadian way of running a business. A large group of shareholders in Restaurant Brands International, the parent company created by the chain's 2014 acquisition of Tim Hortons, say there's way too much testosterone on the company's all-male board, which they, as a Vancouver-based group, see as a national embarrassment.
Burger King — a company already run by "a bunch of kids," somewhat fittingly — made the very tax-advantageous move across the border after forming RBI with Timmy's, and the people at OceanRock Investments note that prior to this merger, their beloved Canadian coffee chain had three women on its 12-person board of directors. Post-merger, RBI shrunk the board down to 10 members, 0 percent of whom are women.
"Given the current investment and corporate governance climate in Canada, we believe RBI's all-male board is a step backwards for diversity at the company," OceanRock's CEO Fred Pinto said, adding, "It's an odd position to take in Canada." RBI holds its annual meeting today, and the investor group says it will present a proposal demanding the company commit in writing to a diversity policy, plus create an actionable plan to increase gender diversity on both the board and in senior management. Wisely, the group's also making pretty overt references to the fact that Prime Minister Justin Trudeau, who can do no wrong, made his cabinet 50 percent women.