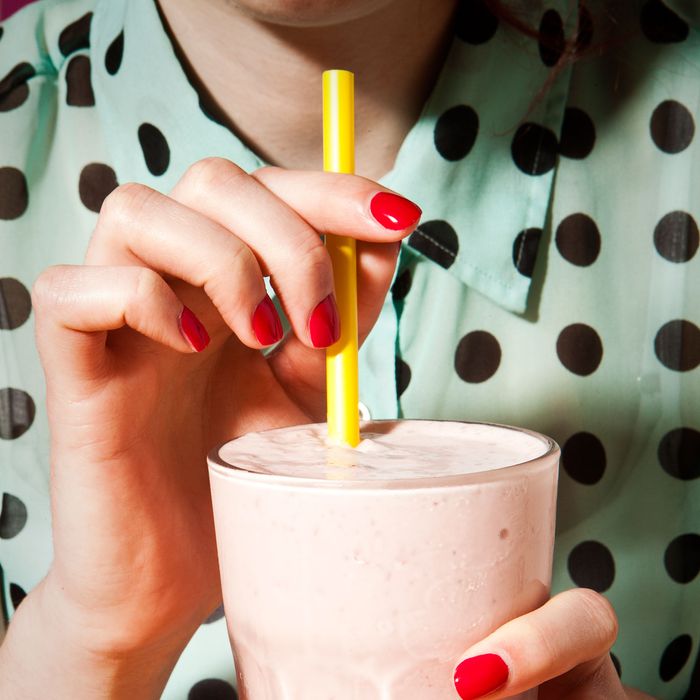 Try these alcoholic frozen treats for a cool summer.
Photo: Dean Belcher
Summer is the perfect excuse to give in to your hedonistic side. After you've worked your way through our fried-food bucket list, treat yourself to an 80-proof milkshake, spiked snow cone, or frozen Red Bull–and–vodka. Here are eight excellent summer treats with a decidedly grown-up twist.
1. Salvation Burger Grasshopper Milkshake
230 E. 51st St.; $14
A New Orleans cocktail becomes a shake with housemade mint ice cream, crème de menthe, and chocolate liqueur.
Alcohol content: approx. 2 oz. 48-proof liqueur.
2. Sincerely Burger Salted-Caramel-and-Maple-Bacon Milkshake
41 Wilson Ave., Bushwick; $9
As if caramel and bacon weren't indulgent enough, the bar adds bourbon.
Alcohol content: 1.5 oz. 86-proof Evan Williams.
3. Clean Shave Ice
Riis Park Beach Bazaar, Rockaway Park; $9
These snow cones may be all-natural, but they're not health food — try adding whiskey from the adjacent bar to the orange-ginger.
Alcohol content: 1.5 oz. 80-proof whiskey.
4. OddFellows Vodka-Red Bull Popsicle
Freehold Brooklyn, 45 S. 3rd St., Williamsburg; $8
In ice-pop form, the drink of college is better than the sum of its parts.
Alcohol content: 30 to 40 percent ABV ("Equivalent to a cocktail," warns a staffer).
5. Milk Bar Fancy Shakes
382 Metropolitan Ave., Williamsburg; $10
The Birthday Cake Fancy Shake's decadence is near obscene: It's Cereal Milk soft-serve, whole milk, cake truffles, and spiced rum.
Alcohol content: 2 oz. 70-proof rum.
6. Lo-Res's Root-Beer Float
163 Metropolitan Ave., Williamsburg; $11
Beer floats with stout are common; less so the root-beer-and-whiskey float served at the bar beneath Nitehawk Cinema.
Alcohol content: 1.5 oz. 80-proof Zackariah Harris bourbon.
7. Rocka Rolla's Frozen "Coffee Thing"
486 Metropolitan Ave., Williamsburg; $7
This creamy drink's made with milk and Oslo coffee and topped with a hit of Evan Williams.
Alcohol content: approx. 1.5 oz. 80-proof bourbon.
8. The Gatehouses at Kings County Distillery's Whiskey Pop
299 Sands St., Brooklyn Navy Yard; $12
The strawberry pop's made with chocolate whis­key and served in a glass — add a pour-over ounce of bour­bon.
Alcohol content: approx. 2.5 oz. 90-proof whiskey.
*This article appears in the June 13, 2016 issue of New York Magazine.