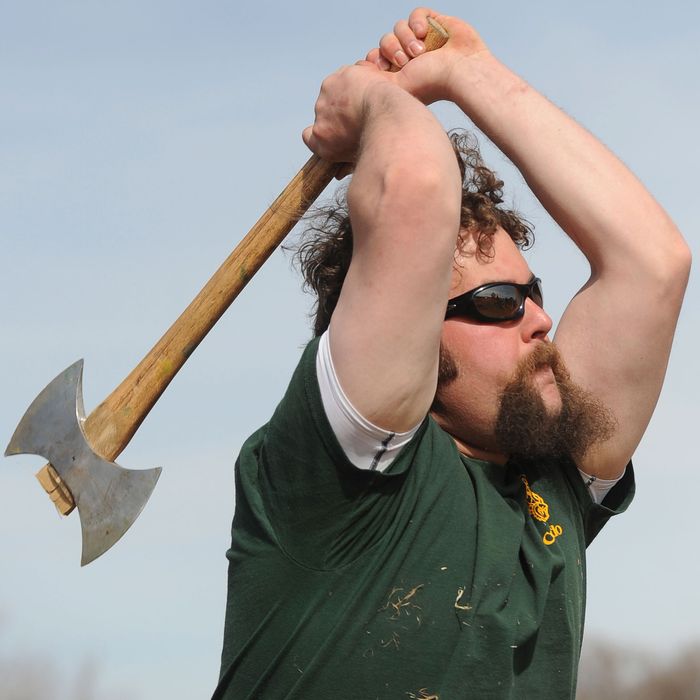 Wait till he has a few shots in him.
Photo: RJ Sangosti/The Denver Post via Getty Images
A bunch of ax throwers in Ontario are on the verge of a major breakthrough: Soon they could have a business that celebrates the time-honored tradition of throwing sharp objects and drinking booze — and it's unclear if it necessarily has to be in that order. The so-called Backyard Axe-Throwing League (which, aside from maple syrup cartels, has to be the most Canadian thing ever) says things look "optimistic" regarding their application for a liquor license from the Alcohol and Gaming Commission of Ontario. For better or probably worse, the group predicts the alcohol will start flowing in the province's six locations by early fall.
BATL's expert staff can teach "most" participants how to properly hurl an ax in a matter of minutes, and the league's CEO tells the Toronto Star they've received "glowing reviews" from safety inspectors. Right now all of the clubs are BYO food and serve nonalcoholic beverages, but the group is very excited about the totally chill prospect of adding hard liquor to the mix — they want to ensure people who show up to grunt and cathartically fling razor-sharp steel also "leave with a smile."
The group adds that, since starting five years ago, it hasn't had any serious injuries outside of a few minor cuts during blade sharpening, which makes sense because, presumably, no one was hammered. The league eagerly looks forward to ending that streak within the first hour of receiving its liquor license.
[Star]