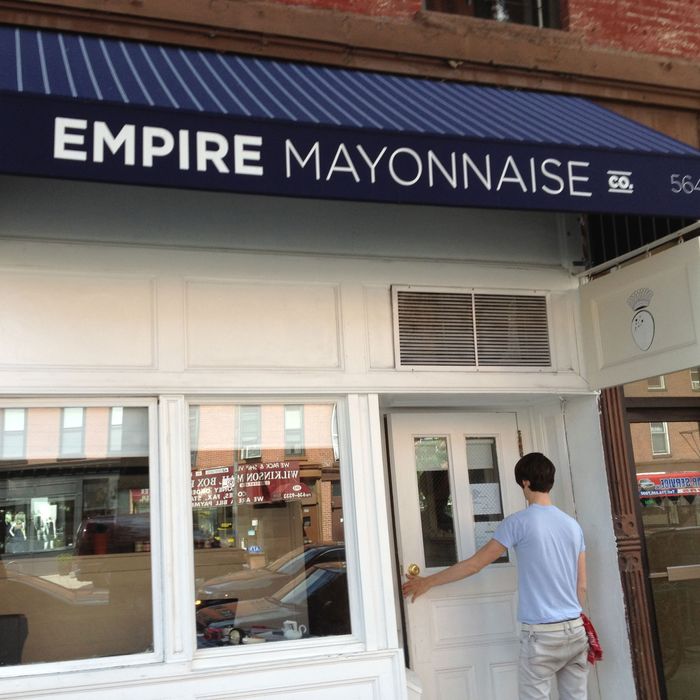 The new space will still be GMO-free.
Photo: Courtesy of Empire Mayonnaise
Nothing's ever epitomized twee Brooklyn food in the public's mind better than the borough's all-artisan-mayo store Empire Mayonnaise. The backstory was actually kind of cool — it involves a designer who grew up poor in NYC and a wd~50 pastry chef going into the small-batch-condiment business — but with $8 tubs of absurdly predictable flavors (white truffle, foie gras, sriracha, coffee, ghost pepper), Elizabeth Valleau and Sam Mason were easy targets.
Well, let's hope their skin's thick enough for another round of jokes, because people have suddenly noticed a "for rent" sign up on the Empire storefront, and Valleau tells DNAinfo the reason is that Prospect Heights "has gotten really expensive." (Weird!) They'll close the 300-square-foot space at the end of July and decamp to another 'hood where they can have more space, Valleau says, like Crown Heights or Long Island City.
The store, which opened in 2012, has "served its purpose," and while being there has "been really wonderful," she says they can't produce enough mayo anymore in their cramped kitchen to keep up with demand, and the rent hike was the final straw. Valleau herself has said of the business, "This is not gentrification — no one is getting rich here. This is hard work."
Empire reassures fans that tubs will still be available at all of the usual high-end grocers in the meantime — Whole Foods, Eataly, Dean & DeLuca, Bklyn Larder — as well as online. For those still sad about having to say good-bye to the actual store and mayo lab, there will always be Kevin Hart's SNL skit to revisit for fond memories: