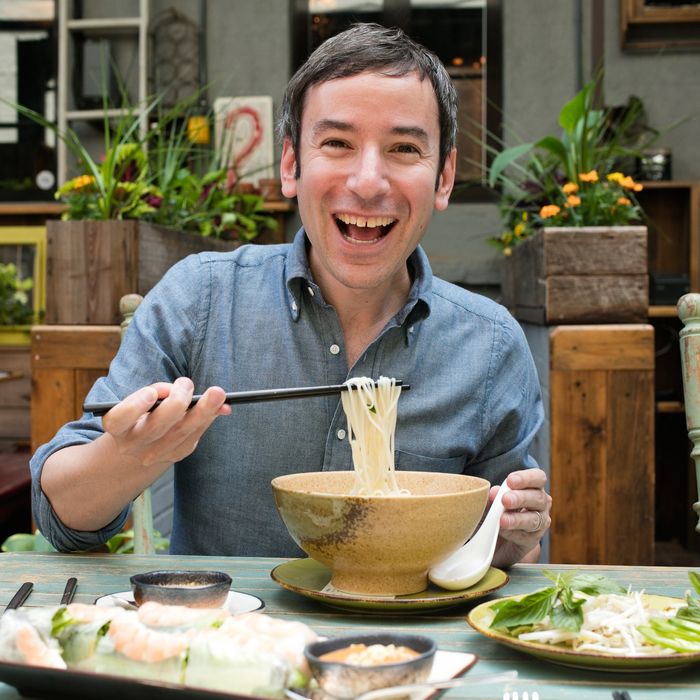 Greenwald at Bricolage, one of his neighborhood haunts.
Photo: Melissa Hom
Former Grantland writer Andy Greenwald's life has taken an interesting turn since the site's untimely demise: He hosts a weekly show called After the Thrones on HBO ("We don't shy away from the important questions like, 'Who the fuck was that?"), he podcasts for Bill Simmons's new project the Ringer, and is working on a book for Ecco Press. Greenwald is also a passionate eater, and as he prepares for a move from Brooklyn to Los Angeles, he isn't missing a meal. This week, he celebrated his wedding anniversary with lunch at Le Bernardin, feasted on lamb meatballs at a wedding, and introduced his daughter to ketchup at the Bronx Zoo. Read all about it, straight ahead:
Thursday, May 26
I wake up groggy and confused: Which coast is this? Then I feel the comforting pressure of my daughter trying to kick my face off. I'm home! It's 6:30 a.m. and I arrived back in Brooklyn at 2 a.m., fresh from my weekly 24 hours in Los Angeles. Lest this sound glamorous, let me be clear: 24 hours is a very ridiculous amount of time to spend on the other side of the country, especially when it takes 12 hours just to fly there and back. But this is my life during the season — the season being Game of Thrones season six, of course.
The show films in L.A. and I live in NYC — at least I do until the end of the summer. (What better place to break major life news than in an online diary of my meals?) So please understand that this entire weekend's worth of eating is nappéd with a rich sauce of melancholy and missing–the–East Coast pre-nostalgia.
It's also — in classic Grub Street Diet fashion — kicking off with a splurge. Today isn't just Thursday, it's our ninth wedding anniversary. So despite feeling like I woke up wearing Viserys Targaryen's golden crown, I manage to climb out of bed and greet my wife accordingly. My wife, by the way, is a saint: She has already made breakfast and lunch for our 3-year-old. I bashfully make a cup of tea — Twinings English breakfast with milk and a little honey — and bid them farewell as they head off to work and school respectively.
Once they are out of the apartment, I grab half of a poppy bagel (from the perfectly good Brewshot, not the best–in–New York–I–swear–it Bagel Hole) and toast it. The Russ & Daughters nova in the fridge is almost a week old. But it's Russ & Daughters! If their majestic business can thrive for 102 years, surely their smoked fish can last a day past the sell-by date? Rest assured, it can.
I shower, throw on decent clothes and a jacket, and race, blinking, into what suddenly appears to be summer. My wife and I have an anniversary lunch at Le Bernardin, so exhaustion is not an option. I grab a small iced coffee — I am not an asshole, so I will not call it "cold brew" — from Cusp on Seventh Avenue and duck into the subway. I think I have plenty of time to make it to midtown but, for some reason, it takes nearly an hour. My gut sense is that after 17 years of detente, the subway, annoyed by my imminent decision to abandon it, has turned on me. Hell hath no fury like the F train scorned.
Le Bernardin is oceanic and serene. My wife looks beautiful and the servers give me just enough time to wick off the subway flop sweat before approaching. I'm eager to be here for more than just the occasion: On my flight to L.A. on Thursday, I devoured Eric Ripert's new memoir, 32 Yolks, in one sitting.
We order glasses of Champagne to start and try not to gorge on the trademark salmon spread. We are dazzled by the options on the three-course menu. Since we are unlikely to return here anytime soon, we tack on a few extra courses. We start with a half-dozen beautiful oysters and soon the wine is making me forget that mere hours ago I was on an airplane, shame-eating a brownie. I confess to the wonderfully friendly sommelier that my wine knowledge is basically limited to California's borders and she steers me to a reasonably priced bottle of white Burgundy from St. Aubin. It's interesting — steely and crisp, like I prefer, but with a little funk of what people more pretentious than me might call "barnyard." It almost reminds me of a so-called "natural" wine, but, thankfully, it isn't. (I think natural wine is, along with Trump University, the greatest scam of the 21st century. Get at me, nerds!)
More food! My wife has a hamachi crudo: Sturdy planks of dense fish with a nice crunch from puffed amaranth. I get the black-bass tartare, which is little ice-cream scoops of raw fish mixed with preserved lemon and Parmesan cheese. A waiter arrives to spoon over a beautiful sauce Vierge made with a buttery, bright olive oil. I nod sagely in order to assure all involved that I know, precisely, what a sauce Vierge is. (Spoiler: I just Googled it.) Then we mop up every drop with rolls: a baguette for me, multigrain for her.
We split an order of the octopus carpaccio, which winds up being my favorite dish of the meal. The texture of the octopus is shockingly soft and luscious; it's just enough to make me forget what smart creatures they're supposed to be. But it's the sauce that's killer. The chef has taken a delicious, bright-yellow Peruvian anticucho sauce and run it through the decadent colonialism machine that is a proper French kitchen. It tastes like authenticity and luxury all at once.
My entree is the merluza, which is fine. It's a perfectly cooked piece of fish in a perfectly rich, buttery, foamy "spring chowder" sauce. (I know — food at four-star restaurants is supposed to be better than fine.) My wife wins, though, with her snapper, which has a delicious, shattery crust and is dressed in a green-curry-goat-yogurt emulsion. Good job, goats! The sauce is fascinating and I wish every dish here had the same brightness and intensity.
I don't really go for desserts but we get them. "Matcha tea" (green-tea custard, preserved lychee, jasmine ice cream, and not enough puffy rice krispies) for me, "tres leches" (crisp cashew sponge cake, caramelized goat's mousse — goat again! — clementine sorbet) for her. My wife approves of both. The restaurant gilds the lily with an extra dessert — something vanilla and chocolatey with the words "Happy Anniversary" spelled out in gold, but I am lost in the wine and quickly down an espresso before wobbling out into the midday heat.
What to do now? How about a restorative walk! Despite being dressed for a yacht party, we trudge from 51st and Sixth Avenue to 34th and the East River. Then, because we are dressed for a yacht party, we take a ferry five stops to Dumbo. Then, because we are insane, we continue to walk another mile-plus to our daughter's school. When we pick her up, she wonders why daddy is red-faced and draped over the water fountain.
No one is really hungry at dinnertime, so my wife stir-fries some broccoli and makes some brown rice. I contribute my default sauce for nearly everything, an eyeballed mixture of soy sauce(s), vinegar(s), honey, and lime. My daughter eats some of this with us, supplemented with the previous day's falafel from Bedouin Tent on Atlantic Avenue. She asks me if falafel is "protein." I say yes. Then she asks, "Is sleep protein? Are babies protein?"
Clearly, it's bedtime for everyone.
Friday, May 27
I wake up feeling like the barnyard I smelled in yesterday's wine. I breakfast on tea and Bran Flakes while my daughter offers me some Play Doh. She has no school today so it's a daddy adventure day — and we've got big things planned. But first we walk over to Colson, our local, and get an iced coffee (for me) and a guinea-pig-sized croissant (for her). The mayor isn't here today, which is an anomaly. After finishing up, we hop in the car and drive to a place we've never been: the Bronx Zoo.
Okay, so, some wisdom, in hindsight: The Bronx Zoo is enormous! You can never see all of the Bronx Zoo! And going on a weekday doesn't mean it will be less crowded, because every child who is in school is actually on a field trip to the Bronx Zoo. We do our best, though, elbowing our way through recalcitrant third-graders in front of the sheep pen — the aroma reminds me of that St. Aubin! — and trekking through the 90 degree humidity to stand in front of the giraffes. ("That one looks like Audrey Hepburn!" says my daughter, wisely.)
It's in line for the bug carousel that I realize neither of us have eaten enough. I ration out some Kashi crackers and dried apricots from the backpack. In the café we order some chicken fingers, fries, a Nathan's hot dog, and blessed, blessed water. My daughter waves off my offer of the hot dog, so I devour it. Very satisfying! She has never had chicken fingers before and considers fries more valuable than jewels. But the real prize is the cup of ketchup I brought. She eyes it warily, like she can't believe it's real. By the time we stand up, she's licked it clean.
Sweaty and full of sodium, we drive to my sister-in-law's on the Upper West Side. She's there with her 2-month-old baby and we're soon joined by her husband, my wife, and my in-laws, who live nearby. I run out for two bottles of Chablis — we only drink one — and help my mother-in-law order a feast from Shun Lee West. To fully embrace this parody of Manhattan Jewish existence, I snack on some impressively rubbery Swiss cheese from Zabar's. Then dinner arrives. I take issue with a certain magazine calling Shun Lee the best food on the UWS, but it's certainly the most likely to satisfy everyone (assuming "everyone" isn't paying). The highlights include fat prawns with garlic and scallion, dry-cooked string beans, and juicy fried dumplings. Afterward, there is a chocolate-chip-ice-cream cake to celebrate the many birthdays our family celebrates in May. I eat a smaller piece than my daughter. As it should be.
Saturday, May 28
Is there room in this already-overlong food diary for imaginary food? I wake at 6 a.m. dreaming of pizza. In my dream, I'm seated at the bar of a nonexistent, Roberta's-like pizzeria where the happy chef is offering me multiple pies to sample and refilling a bottomless Champagne glass. I believe this is proof that New York City, furious with my life choices, is mocking me with visions of what I'm giving up. Los Angeles: I've had your pizza. Just be honest with yourself and focus on tacos.
We have nothing in the house, so I walk down the street to buy eggs and apple juice. Upon returning, I scramble the eggs for my wife and daughter but don't eat any. Instead, I make the odd decision to go out again to buy an iced coffee from Colson. (Again: No mayor!) An hour later, at home, I realize I have neglected to eat. After eating two slices of my daughter's pear, I throw leftover rice and broccoli in a pan, add some of the Default Sauce, and scramble an egg in it. It's awesome. I lick the bowl.
Then we hit the road! While Grandma stays with our daughter, my wife and I are driving out of the city for a wedding. This particular wedding is in Sullivan County which is … central New York? Catskills-y? We don't know, but we head off anyway. The day is beautiful; the traffic is not so bad. As we navigate the Palisades we realize our only error: We forgot to bring any food. Okay, I brought a bag of Lay's "natural" potato chips, so I put some work in on that. (Highly recommended for those who are generally kettle-averse, like myself.) But it's not enough.
Though we have little time to spare, we pull over in Monticello. I wander into Colosseo Pizza, which doesn't offer me any wine but does have a decent slice. It's actually kind of a Proustian moment, as the pizza has all the characteristics of the roller-rink pizza I remember from every birthday party of my childhood: wide, flat crust; too much cheese; sweet sauce, heavy-on-the-oregano. In the otherwise-empty dining room, a middle-aged couple are splitting a mid-afternoon Hawaiian pie and chatting with a waitress. "You're new here, right?" the man asks. "Nah," the waitress replies, "I've been here three years!" On the way back from the bathroom, the three are discussing lumpia styles. America: already great!
Just before we get to the hotel, we stop at a farm stand that promises fresh, local maple syrup. There are two doors: The one on the left says "produce," the one on the right says "guns and ammo." We veer left to find a lot of eggs and otherwise empty shelves. I pick up a jar of raw honey. It will have to do. As we exit, a group of dudes with man-buns pull up in a rental. I assume they're also going to the wedding and nod hello, clutching my honey like pearls.
We're staying at a hotel called Villa Roma, which is sort of like the resort from Dirty Dancing but on mescaline. As we arrive, we are dazzled by multiple water slides, handball courts, a tennis center, bumper boats, and what appears to be turtle races raging on the lawn. Our room is 409, but a shy, teenage concierge explains to me that there is no fourth floor. To get to our room, we need to take the elevator to the third floor, walk a bit, then take an elevator to the second floor. America: already great!
The wedding — which unites two dear friends, one of whom once worked for this very publication — is located in a beautiful barn in, approximately, the middle of nowhere. It is stunningly beautiful as we approach: in the woods, frogs chirping that sound like crickets; a dusky, summery sun making everything feel intimate and inviting. Even better: This is one of those weddings in which drinks are offered before the ceremony. Wife and I accept glasses of sparkling rosé and hug and/or tackle various friends, many of whom have traveled from Los Angeles. Chris, my Thrones partner, is here with his wife. We are both very, very relieved not to be talking about dragons for one night, at least.
The ceremony is lovely and brief. There are readings from Drake and Nora Ephron. The couple wears white sneakers and they practically levitate back down the aisle to the sound of Young Jeezy. Reception time! I get a gin and tonic because it seems the thing to do. There is an enormous table, groaning with various meats and cheeses. And passed hors d'oeuvres: mini-chicken-and-biscuit sandwiches (delicious!), leek tarts, and — as requested by the bride — homemade pigs in a blanket. My drink goes suspiciously quickly. To replace it, I grab the event's signature cocktail, the Leland Palmer (the TV critic approves), a lethal mix of gin, limoncello, and honey. Let's rock!
When I told the bride that I was including her wedding in my Grub Street Diet, she was concerned — but needn't have been. This food is delicious! At long tables, we pass around big bowls and platters of Stuff You Want to Eat: kale and quinoa, a nicely dressed salad of roasted vegetables and croutons, lamb meatballs and rice, and, best of all, roast chicken and potatoes. This is the rare wedding at which everyone wants more of everything. There are bottles of Albariño and Gruner on the tables. I avail myself of both liberally.
There are speeches. We toast with the aforementioned sparkling rosé. Then slabs of very tasty cake are laid out on a separate table. Because that is the sort of wedding this is. It is not interested in your niceties, your grandparents, your dessert. This wedding is interested in dancing, and it is not fucking around.
Am I ready for this? I hope so. I drink a cup of black coffee. Then alternate another with a wine glass of tequila that my wife wisely presses into my free hand. Chris mocks me and I may regret the extended Breaking Bad chemistry metaphor I employ to explain my life choices. But here's the thing, haters: It worked. The young god Skinny Friedman starts things off family-friendly — some Whitney Houston, some Mariah. But then it gets real. How real? Spice Girls real. (I definitely, definitely bragged to the Ringer editor-in-chief Sean Fennessey and his wife about how, in 1997, I made Chris stop at the Cherry Hill mall so we could buy "Wannabe" on cassingle. That really happened.)
But then, realer still: Skinny starts playing the rap of my Philadelphia homeland: Freeway, Beanie Sigel. Chris and I perform a sort of ungainly Dothraki battle ritual. Now the dance floor is filled with a goon squad of Media Professionals Acting Very Unprofessionally. I see a New York Times writer standing on a chair during "Make the Trap Say Aye." I black out during "No Problem." I am born again during "Father Stretch My Hands." At some point, during "March Madness," I realize I have been drinking cold Yuenglings and may have possibly pulled a muscle. Is it really 1:30 a.m.? Is he really playing "Bound 2"? To the bus!
Back at the ghostly Villa Roma, my wife and I accompany two of the groom's young cousins to the vending machine. They are cashless and I have six George Washingtons burning a hole in my suit pocket. I feel like the extra in the Fat Joe video I was born to be and make it rain. My wife, insanely, chooses Sun Chips. I rectify that with Doritos and M&Ms.; Up in the room, I forsake them both for two Advils and a bottle of water. I close my eyes, thinking of the Doritos.
Just kidding. Reader, I ate them.
Sunday, May 29
It's 8 a.m. There is no child in bed with us, but something is kicking my head just the same. I reach for water, then I reach for Kanye once again: sunglasses and Advil. Wife and I pack our bags and descend the three floors, plus one. Ten minutes into our drive, we spy a likely landing spot: the Bethel Market Café. After determining that they indeed sell the eggs we require, we grab a two-top. The place is a quaint throwback to an older, gentler vision of hippiedom: no kombucha, no sprouting seeds. Just many dense loaves, earnest smiles, and day-glo posters advertising "trail rides."
We get too-modest plates of scrambled eggs, bacon, rye toast, and sad breakfast potatoes. (I hate sad breakfast potatoes.) We eat everything, plus coffee. Feeling more human, we drive three minutes north to stand and gawk at the field where Sha Na Na played, 47 years ago. Someone has carved a peace sign into the grass. My wife puts a dandelion in her hair.
En route to the city, we stop for gas in Goshen, New York. There I hit convenience-store jackpot: bags of nature's manna, Herr's sour-cream-and-onion potato chips. Rest assured, there is no foodstuff I have eaten more in my life, nothing I crave more at inopportune moments. My relationship to these chips is so intense that I can distinguish between production runs: Some are too creamy, some are too salty and astringent. Herr's are weirdly hard to find outside of the P.A.-N.J.-D.E. area, though, so when I see them, I hoard them. Because this is for public consumption, I limit myself to two bags and snack lightly in the car. A good batch! These chips are the best, man.
Back in Brooklyn, daughter is happy to see us and we are all hungry for lunch. For the adults, I quick pickle a shallot in red-wine vinegar with sugar and salt, then toss it in a bowl with two cans of Cento tuna, olive oil, capers, lemon juice, and a little balsamic. I also dress a can of chickpeas labelled "biologique" that I bought at Eataly. They are annoying because they actually taste better than Goya, my go-to brand. For the child, I prepare some bow-tie pasta with butter and Parmesan with peas on the side. We eat and discuss carousels. Then I add some of the tuna to some of her noodles and peas and thus give my lunch a possibly unnecessary spinoff.
Everyone ought to nap but no one does. We walk to the Greenmarket near our apartment and are delighted that it's finally warm enough to buy more than rutabaga. We load up with asparagus, kale, strawberries, eggs. I get a container of sweet-sour picked daikon radish that two-thirds of our household loves. I buy a nimbu pani, which is a wonderful salty-sweet Indian limeade. My daughter drains most of it. Then I separate from the ladies to attend to some pre-wife's-birthday errands. Some pickled radishes are consumed.
In the evening we grab a bottle of Castellroig Rosat cava — a wine from our wedding, as it happens — and climb the stairs to our upstairs neighbor's roof deck. Her son and my daughter are old friends from day care and they quickly start filling buckets with water and dumping said water into plants to the point of drowning them. Our neighbor methodically makes a beautiful guacamole with five avocados. The end result looks so good my wife breaks her "no more avocados until California" rule and we dig into it with tortilla chips. Another couple arrives bearing cheeses and I sample both: a sharp, salty Gouda and a creamy blue. When the cava runs out, so do we.
As my wife reads bedtime stories, I decide to do something about dinner. I grab some cod fillets from the Greenmarket and improvise. First I chop shallots and garlic and sweat them in a large pan with olive oil, salt, pepper, and sweet paprika. Then I grab a bag of bok choy that came from the upstairs neighbor's garden, wash and chop it. Stems and leaves go in the pan, along with some tomato paste and some harissa. I notice the leftover chickpeas from lunch, shrug, toss them in too. In a fit of anxiety, I steal and chop two leaves of my wife's kale and add them. Then some canned San Marzano tomato puree (sprinkle of sugar because you kinda have to with canned tomatoes) and chicken broth. Then I lay the cod fillets over the semi-stew and cover the whole thing. While that cooks, I toast some couscous until it's almost mahogany-colored and add a mixture of water and chicken broth. When the fish is flaky, I finish it with sea salt and lemon juice because I'm not a savage.
We take bowls of this stuff to the couch and finish season two of Catastrophe on Amazon. Hey, it's really good! (The cod and the show.) Yes, I know it's Sunday night. But I'm not really a TV critic at the moment so I don't have to watch what everyone else does. It's a glorious feeling.
Monday, May 30
It's my wife's birthday! My daughter helps her open cards and presents while I make them scrambled eggs. A little later, I have Bran Flakes again and some tea, this time with the raw honey from upstate (midstate? Really not clear on this). It tastes like something that actually emerged from a furry cavity inside a bee, which is not nearly as awful as I just made it sound.
The plan had been to head up to City Island in the Bronx, both because we are trying to hit places we have rarely been in the city and because we like the idea of pretending we're in New England. But the threat of a biblical downpour has led us to make other plans: a museum and then maybe a seafood tower at Balthazar so we can pretend we're in a late-period Woody Allen movie. But as we head out, the sun is poking out from behind two ominous clouds. We decide to go back to the original plan. For the second time in the last three days — and, let's be honest, the third time in the last decade — I find myself driving up to the Bronx.
Not long after arriving on City Island do I have a sinking, Gob Bluth sensation in my gut. It's not that it's not quaint — it is, sort of. It's that there's basically nothing much to do except wait for one of the restaurants named "____ Box" to open and then try to order something that isn't thawed-out Alaskan king-crab legs. While my wife walks up and down the main drag in search of an antiques store, my daughter and I eat an apple on an impressively nautically themed playground. When lunchtime rolls around, my wife says we should just hit the most crowded spot, which in this case happens to be Johnny's Reef at the far southern tip of the island.
I have to say, I sort of love this place, with its 66-year-old DGAF attitude and all-fried-everything aesthetic. I slide my family into a cafeteria table by the windows, grab some cash, and attempt to navigate the various stations. Obviously the fry line is where it's at: It's fun to watch the staff shout orders to the grizzled oil masters in Spanish. Like everyone around me, I get an order of the almejas. I also get some smelt, which are oily little fish you eat whole. My wife, bless her, has requested something not breaded and plunged into a boiling vat, so I maneuver to the steam section. This is … not terrific. I ask the lady for some steamed clams and she asks what kind. Like a real Anthony Prole-dain, I say, "Whichever you recommend." It's like asking a plumber which kind of bathroom blockage he prefers. With a dead-eyed shrug, she says, "The big ones." This is a huge mistake! But I make it, and return to the table with a tray of inedibly chewy, fist-sized cherrystones. Still, the clam strips, though under-seasoned, are pretty good and the smelt are not unpleasantly fishy. All the fried aquatic life is piled high on a bed of french fries, which renders them mushy but does offer a fun game of discovery for my daughter who gobbles them happily. (To her credit, she tries both the smelts and the clams and, improbably, likes the latter.) Hoping to make amends, I offer my wife her pick of any frozen mai tai on the menu. She sticks to water. I gulp down an icy Modelo. It fails to dull the shame.
A few hours later, back in Brooklyn, I treat the birthday woman to a lobster-tail salad at Luke's Lobster in our neighborhood and all is forgiven. (Actually, she wasn't even mad. A saint!) I enjoy a "California-style" lager from Maine called Tarnation. It hits all the things I care about in beers: It is low-alcohol, non-hoppy, and refreshing. When it comes to beer, David Chang is my co-pilot.
That evening we gather some friends in the backyard of Flatbush Farm for celebratory drinks. I down three glasses of an awesome German pilsner called Rothaus that ticks all the boxes listed above but is neither watery nor cheap. The table snacks on fried fava beans, Marcona almonds with rosemary, deviled eggs, and "veggie nachos," which are about as sorry as they sound, festooned with mealy white cheese and limp florets of cauliflower. It's a great time made bittersweet only by my friend's story of attending a pig roast in New Jersey the day before. I realize my greatest regret in life is not making more friends who roast pigs.
Back at home, we blow out candles on a cupcake (for my daughter) and a blueberry crumble from Union Market (for us). We finish the cod stew and I have a few glasses of one my current favorite wines, a Ceritas chardonnay from Sonoma. It helps dull the anxiety caused by the final two episodes of the fourth season of The Americans. It's still the best show on TV, by the way. Just because I'm not recapping it doesn't mean I'm not right.
Tuesday, May 31
Am I still doing this? Are you still reading this?
I make a cup of coffee at home and scrambled eggs, again, for the ladies. When they finish, I steal some remaining eggs and put them on a slice of dense rye-ish bread from Runner & Stone.
Then it's off to the gym where I run a few miles and do some, as they say, "core work." (I insist this sounds better than "cold brew.")
Before jumping on the subway, I duck into a bodega and grab the least objectionable snack thing I can find — it's some sort of organic granola bar that I choose because the wrapper is clear: At least I can look directly at the thing that's making a fool of me. I crack it on the Q train. It tastes like birdseed dipped in confectioner's sugar. I eat an eighth of it, bitterly.
Near Bryant Park, I duck into the Bluestone Lane kiosk for a small, lethal iced coffee. Thus energized, I elevator up to the HBO offices. There, I sit in a dark screening room with my colleague Jason "the Maester" Concepcion. We watch a television program that is roughly 50 minutes in length. I scribble copious notes. Occasionally, I exclaim. To say anything further would be to violate an oath more severe than that of the Night's Watch. Truly, my NDA is dark and full of terrors.
Afterward, I have the rarest of treasures: time for a proper lunch in Manhattan. In looking over my notes for this column, I realize what is most lacking is my favorite food group: soup noodles. So I head to the East Village. Can I just say that while the ramen boom is good for just about everyone, the ramen itself is wildly overrated? The all-tonkatsu everything reminds me of the bro-y bacon boomlet of a few years ago. There are other styles, my dudes! To my mind, the modern masters of lighter, shoyu ramen are Shigetoshi "Jack" Nakamura (who isn't open for lunch) and my friend Keizo Shimamoto, who is currently brothless since his Ramen Shack closed down for the season.
So I decide to meet up with an old friend: Setagaya in the East Village. I've been going here since it opened and it remains agreeably decent. Since it's hot out, I get the spicy Hiyashi Chuka — a weirdly underrated dish that translates into "cold Chinese." It's chilled ramen noodles in a sweet soy dressing tossed with strips of egg, pork, nori, pickled ginger, and, for some silly reason, chopped bodega tomatoes. On top is a dollop of spicy, porky ragu. It's delicious, slithery, and refreshing. I would eat this every day this summer if I could.
In the afternoon, I take a few hours to work on the book I'm writing for Ecco Press in case my attentive editor is reading this (hi, Zack!). The venue is Absolute Coffee on Atlantic Avenue. The beverage is a cortado. I buy a ginger-molasses cookie for my daughter and steal a few bites from the outer rim.
That night I want to go to Bricolage, my favorite local restaurant, but I realize I'll be headed there tomorrow for the photo shoot. Instead, my daughter and I head to a great new sushi place that opened near our apartment: Yashin. We snack on edamame and drink a Kirin (well, one of us does) while we wait for her mother. "Where's your wife?" she asks at one point, in mock disgust. Ah, here she is! I consider the chirashi, my go-to, indecisive choice but then remember this will be public. So instead we order a mess of sushi from the specials menu: firm madai, oily sanma and kampachi, vibrant orange trout, and a bracing, Santa Barbara uni. My daughter houses some scallop and salmon-roe sashimi and I am more proud than I would be if she got a Fulbright.
On the way home, she gets a stracciatella cone from L'Albero dei Gelati, the amazing Italian café down the street. I may or may not purchase a pint of the same and bring it home to consume later, away from your prying eyes. What can I say? TV is my business so of course I'm going to end on a cliff-hanger.