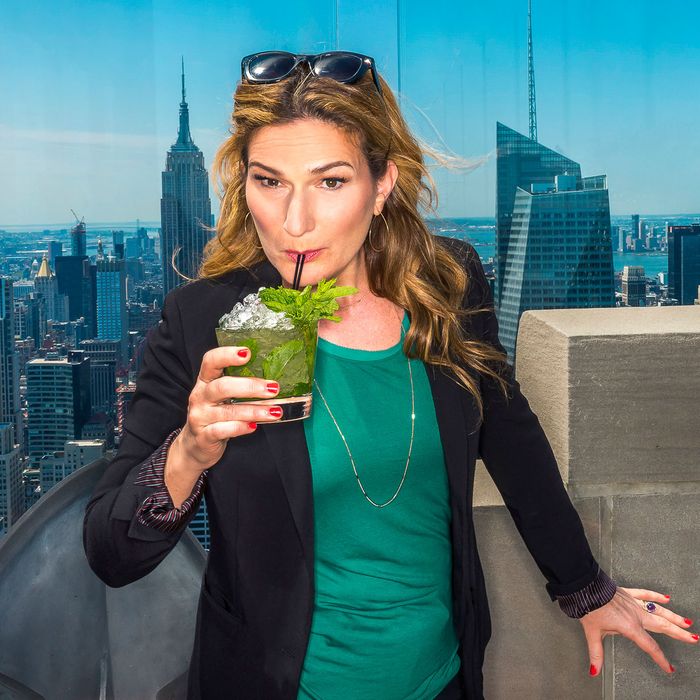 "It's cool that you can sneak up to SixtyFive and have a drink, and it's so beautiful."
Photo: Noah Fecks
Ana Gasteyer has kept busy since her six-year run on SNL, notably on  ABC's Suburgatory and now as Hollywood agent Karen Grisham on Maria Bamford's Netflix comedy Lady Dynamite. There was even an album in 2014, the jazzy — and funny — I'm Hip. This week, though, Gasteyer kicked off her summer with a trip to Fire Island, drinks at the top of 30 Rock, and some snacks she stole from Facebook's office. Read it all in this week's Grub Street Diet.
Friday, June 17 I'm a passionate coffee drinker. I have an espresso machine at home that I'm so devoted to. I've even had it repaired a couple of times. I also have an Aeroccino, which is a fantastic gizmo for steaming milk. I have my espresso with steamed almond milk or skim milk every day, and I have about two or three of those in the morning.
We have a house in Fire Island, and I was heading there in the afternoon, so the morning was spent getting my ducks in a row. Around brunch time I went to Forager's and picked up a Mexican Coke and free-range egg-salad sandwich with watercress, and ate it in Brooklyn Bridge Park, which I find magical.
I jumped on the train to the ferry terminal and stopped at Nicky's Clam Bar. It's my little ritual — they have really fresh Manhattan clam chowder, which is the perfect thing if you're starving and you know it's going to be a minute before you get off the boat. They have a fried-fish sandwich too that's the acme of all fish fillets. I'll allow myself to get that once a summer because it's so effing good. You want to cry the whole time you're eating it. It's just fried flounder in a giant white roll with tartar sauce, but it's so unbelievably good. I had my chowder with a (brown bag) beer and zoned out on the ferry. It's like a meditation app.
My mother is half Greek, and she is an amazing cook. I grew up in a house where cooking was a high value. In New York it's been an interesting balance and challenge because this isn't really a city where people cook very often. And so all of my apartments in New York have started with a kitchen and moved out from there. Even when I had a studio apartment — it was 380 square feet, when I was on SNL — half of it was a kitchen. And then there was, like, a Murphy bed.
One of the challenges of living in Dumbo is unfortunately getting groceries. We have amazing kitchens in these loft apartments and then very few options. So I'm a very regular user of FreshDirect, as everyone in the neighborhood is, but then we joined this CSA. It's my third year, and I love it. It makes me cook so creatively. And the stuff is great. The farm is great. Even this early in the season I feel like I just make more interesting food choices. It's really fun to start your evening like, "Okay, two zucchinis and some bok choy. What should we have?" and then kind of make it up. I do a lot of dinners that way.
On Fire Island it's a similar situation: It's a paradise with limited grocery options, so you have to kind of think like a survivalist; whatever you have, make do. There's a lot of improvised, weird cooking. I try to do a Costco run in the beginning of the summer with steak and chicken and salmon, and make it up with CSA vegetables and herbs I grow there and whatever else is around. That night we grilled corn and steak from Costco (they have very high meat standards, apparently — according to the internet). I roasted some new potatoes and made what my mom calls a Greek-shepherd salad, which is tomatoes and cucumbers and feta and dill. We ate that outside on the porch, and drank Whispering Angel because somebody left it there when they borrowed the house, and it's hard to turn down.
Saturday, June 18 I have a percolator out on Fire Island, and for some reason I always like the coffee out there better when it's percolated. So I brought Brooklyn Roasting Company's Mocha Java blend and had three cups of that. Then we just noshed on bagels and cream cheese and strawberries, and went for a walk to the Fire Island lighthouse.
When we got back I had a lime FrozFruit bar. When I first lived in Los Angeles and I was writing comedy, my best friend and I used to eat at this insane taco stand called Yuca's, which has since been written up by everyone. It's a shack in a liquor-store parking lot and they made the best tacos in the whole world. The routine would be, you would order your cochinita pibil tacos, and then you would walk across the parking lot to the liquor store and you would get Coke or whatever. The tacos were spicy, so at the end you would go back to the liquor store and get a FrozFruit bar. But they had this walnut one, and it was the most incredible thing, it was walnut flavored and so creamy and specific and the ultimate thing you'd want after you'd eaten something very spicy on a really hot day, especially if you're hung-over. But I've never found it again. I feel like maybe I dreamt it.
Dinner was leftover steak, steamed snap peas, and pasta with stuff from the CSA: kale, red onion, and scapes. I sautéed the onions in red wine and olive oil to caramelize them a little bit, and added chopped-up kale and cooked it until it was soft, and seasoned with salt and pepper. I added two cut-up Italian turkey sausages and just kind of let those hang out, then boiled some penne and made some cream sauce with half-and-half and Parmesan cheese. Then put everything all together and it was really good. Everybody loved it. It was just the girls and me, but the girls loved it, so that's saying something.
Sunday, June 19 Breakfast was coffee and brioche toast. I signed up for a bread share in my CSA, which sources from Carissa's Breads, and it rocks. We get this weird, artisanal bread loaf every week. The brioche we got makes the best toast because you just put a little jam on it and it's like this savory pound cake, basically, for breakfast. I try to make my own bread, but I'm kind of a shitty baker. But I really believe when you don't put all those additives in bread it tastes better and it's better for you and so if we're going to eat bread I'd rather eat it from a really clean source.
Later, for a snack I had beet Blue Hill yogurt that I picked up from Forager's. This is the best. My family judges me really hard for it. They think it's really weird that I eat savory yogurt, and they all judge me for liking beets. And, honestly, beets are one of those things that, if you don't like them I get it, I understand why people wouldn't like them because it's kind of like eating a ball of dirt. And if you love them; they're fantastic. But this yogurt, I can't even describe how good it is. It's so different. And it's just great if you're not in a sweet mood.
We came back into the city for Father's Day because it was my kids' tap concert that night. We went for brunch to Alma in Red Hook. The view is beautiful and kind of weird, and overlooks the shipping containers on the waterfront in Brooklyn. We sat on the roof and it was such a gorgeous day. We had fish tacos, guacamole and chips, and the main event were these roasted jalapeño tamales. We ordered two and all shared, and it was so fantastic. Oh, I also had a blood-orange margarita.
Monday, June 20 I had breakfast with my good friend Susan. We check in a couple times a year and have have mommy lunches and breakfasts. We always go to a couple local diners, and this time we went to Iris in Brooklyn Heights, which is lovely. Their avocado toast with poached eggs is so good. I love it. It's the cutest little secret spot. It's like being in New Orleans.
Dinner was Ganso Shoyu from Ganso, which is one of our favorite places in Brooklyn. We went there after Hurricane Sandy, and I think that locked in a sense of comfort. It's delicious ramen, and they're now on Caviar, which is the greatest. They do bar food, like dumplings and edamame and things, but ramen is the thing. There is one that they don't have on the menu right now but I will always get that if they have it; it's ginseng and chicken broth basically. It's unbelievable, and I feel like whenever I have it I'm transforming into Wonder Woman.
Tuesday, June 21 Coffee and an orange and ginger yogurt for breakfast.
Tuesday was a press day, so I did Kathie Lee and Hoda in the morning, then went to Facebook for a live chat. I had lunch in their cafeteria: a custom juice of pineapple, mint, and cucumber; and a salad with blueberries, blue cheese, and balsamic dressing. And then I had free snacks off their wall, which is ridiculous. They have every kind of kick-ass snack. They had a lot of candy, and I was really proud of myself for not eating it, but I was like a crazy old Broadway starlet shoving free food in her purse because I was so excited, and I forgot to write down the brand names of some because I ate them so fast. I also stole stuff from the bathrooms because they had mini deodorant and toothbrushes, and that's always fun.
Before dinner we had drinks at SixtyFive, on the top of 30 Rock. My awesome husband has a big birthday this year, so we are celebrating early. He loves a view, so it was perfect. I've been to Rainbow Room for high-rolling SNL parties, but to think of it as an accessible place where you can go on a date is one of those super-special treasures of the city. I mean, frankly, I can get romantic about having a cup of coffee and looking at the Statue of Liberty from the Ikea cafeteria as well, but you think of the Rainbow Room as this really high-end fancy-schmancy place, like you can only go if it's your bar mitzvah or your 50th wedding anniversary. It's cool that you can sneak up to SixtyFive and have a drink, and it's so beautiful. I had this drink called a Mint T-ulep. Self-promotional plug, but the title of the lead track on my album is "One Mint Julep," the song by Ray Charles. I'm really proud of that album, and the video was directed by Jorma Taccone from the Lonely Island. So I love a mint julep, and SixtyFive's was a great one. It was tequila — which is my drink — mint, and lavender bitters. I love minty things in the summer.
My daughter, husband, and I went to Avra Estiatorio for dinner. It's just cozy and it feels very Greek and tavern-y. My daughter, believe it or not, takes Ancient Greek in school, so it's fun to take her out to a Greek restaurant to tell me what things mean. I had a Santorini white wine, and my husband had a Greek beer. To eat we had the Greek salad, the grilled shrimp appetizer, Chilean sea bass souvlaki, grilled pompano with lemon, and baklava along with tzatziki, tarama, and fava spreads. Also, Greek green beans. I actually hate green beans, but the Greek preparation is something my mom made, and it takes me shooting back to childhood. They're slow-cooked with tomatoes and are also amazing cold. The shrimp was ridiculous: I'm not sure, but they tasted like they were prepared with ouzo. I also don't like shrimp to be too big. I get scared when it gets kind of leggy.