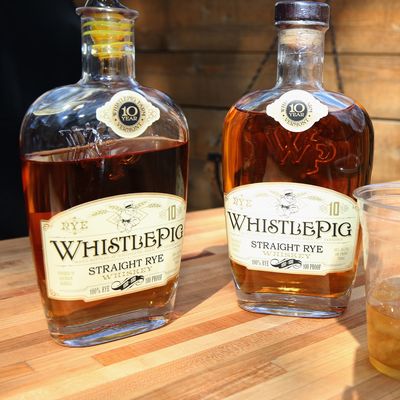 This is some serious drama.
Photo: Jonathan Leibson/Getty Images
Here is a story that is essentially the current season of Silicon Valley, but with award-winning rye whiskey standing in for a middle-out compression algorithm: Earlier this month, WhistlePig founder Raj Bhakta was kicked off the board and ousted as operating manager by his board of directors. According to reports, Bhakta claims board members Christopher Evison and Wilco Faessen gave him a mandate: walk off into the sunset with $50 million, or else. He chose the latter. According to Bhakta, they responded by conducting a last-minute vote that he says he was prevented from attending and a fourth board member, Jose Robeldo, was also absent from. During that meeting, Faessen and Evison levied charges of criminal activity and fraud against Bhakta, including drunk driving (and lying to an officer about it), concealing a promise of an equity stake to a newly hired marketing director whom Bhakta later married, and smoking weed on company grounds while doing business.
In a complaint filed in a Delaware business court, Bhakta calls the equity stake promise a "good faith oversight" and accuses the duo of trying to push him out so they can sell the company. Evison and Faessen have reportedly not yet responded. Right or wrong, Bhakta has a serious fight ahead of him. Faessen is a managing director for Barclays, while Evison has the same role at a firm that oversees the $15 billion fortune of Colombia's Santo Domingo family, which is SABMiller's largest stakeholder as well as a stakeholder in WhistlePig. Bhakta does, however, have an ally in WhistlePig master distiller Dave Pickerell, who tells WhiskyCast that Bhakta can "undeniably" lead the company and that Evison and Faessen are just a "couple of billionaires trying to kick Raj out."
Bhakta, who, by the way, once competed on Donald Trump's reality show The Apprentice, will also have to deal with the fact that, according to a People magazine article from 2006, admitted to getting arrested for driving drunk in 1997 and 2004. He also made a run for Congress, and at one point decided to ride an elephant across the Rio Grande river to bring attention to undocumented immigration. Really, it sounds like however the legal situation shakes out, Bhakta's story is going to make its own amazing HBO series.