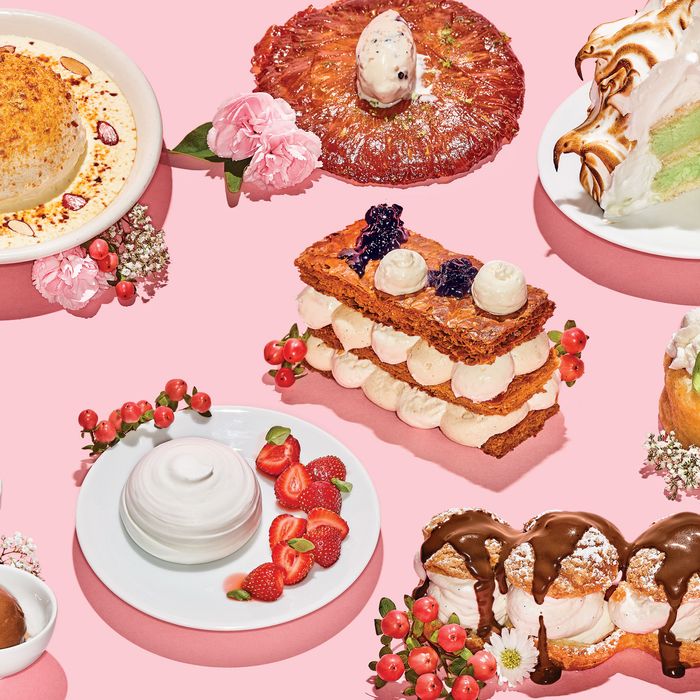 Classic French desserts are popping up in menus around town.
Photo: Bobby Doherty/New York Magazine
In the relentless pendulum swing of global tastes, France and its iconic cuisine have been going through a slump. You'd never know it, though, from the proliferation of classic French desserts around town. This is a moment for meringue, for lush pastry cream, and for looming soufflés — and not just at places like La Grenouille. The trend is most apparent at Antoine Westermann's Le Coq Rico, which has reacquainted New Yorkers with the pleasures of these festive showstoppers, but it's also on display at Bowery neo-bistros and English-clubby hotels. Here, a retro-pastry primer.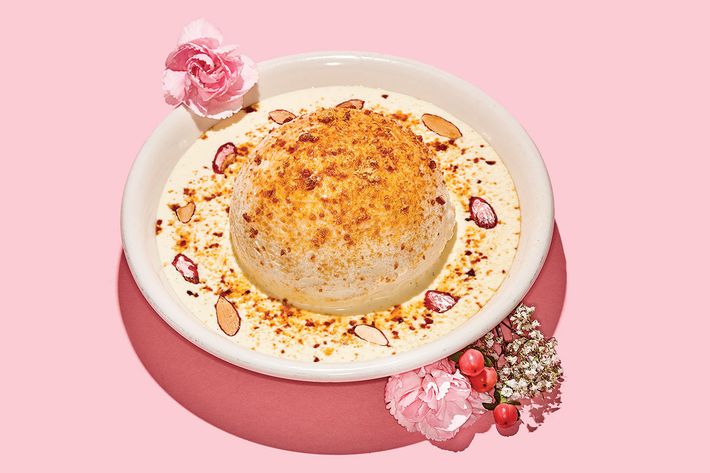 Le Coq Rico's Île Flottante
A domed island of ethereal soft meringue, floating in a sea of crème anglaise dappled with crunchy pink praline. $10. 30 E. 20th St., nr. Park Ave. S.; 212-267-7426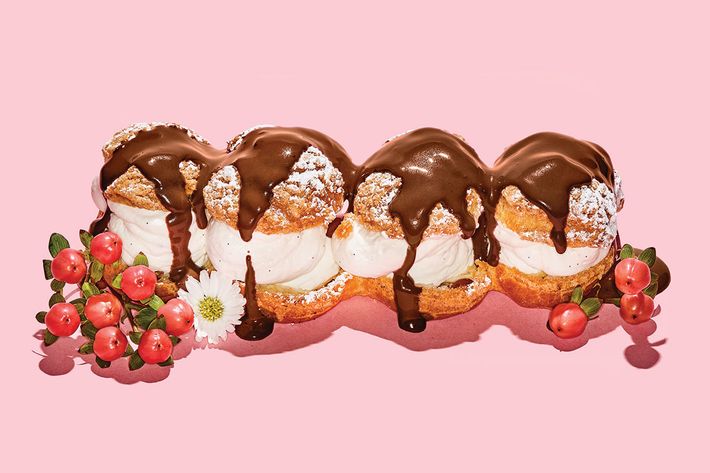 Le Coq Rico's Profiteroles
Bourbon-vanilla ice cream inside pâte à choux, or cream-puff dough, dribbled with rich Valrhona chocolate. As close as France gets to a hot-fudge sundae. $11.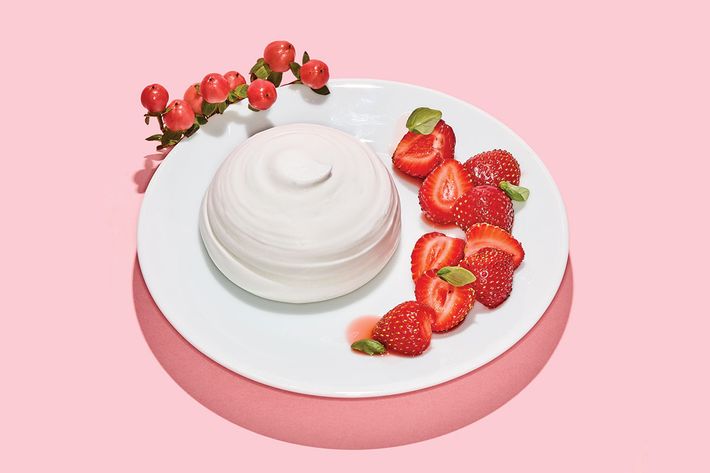 Vaucluse's Vacherin
Strawberry shortcake has nothing on pastry chef Alina Martell's vacherin, a textbook-crisp meringue shell housing fromage blanc ice cream and strawberry consommé. $13. 100 E. 63rd St., nr. Park Ave.; 646-869-2300.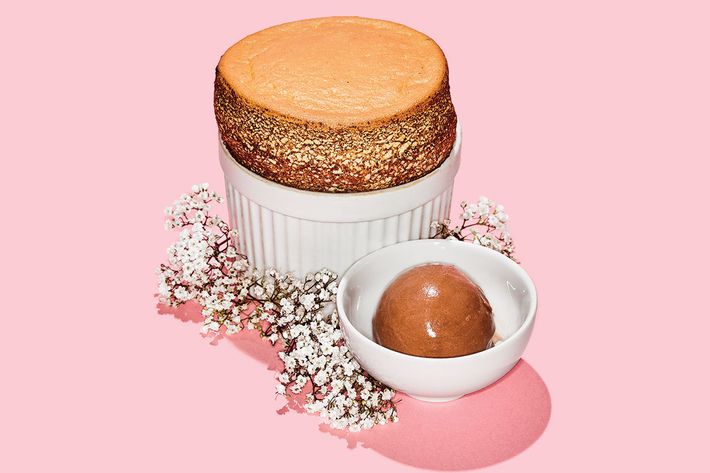 The Clocktower's Pistachio Soufflé
Sebastien Rouxel patterned his menu after the room's old-fashioned vibe. His classic soufflé, a miracle of beaten egg whites aerating a yolk-based sauce, is "all about technique" and comes with a scoop of chocolate ice cream. $18. 5 Madison Ave., at 24th St.; 212-413-4300.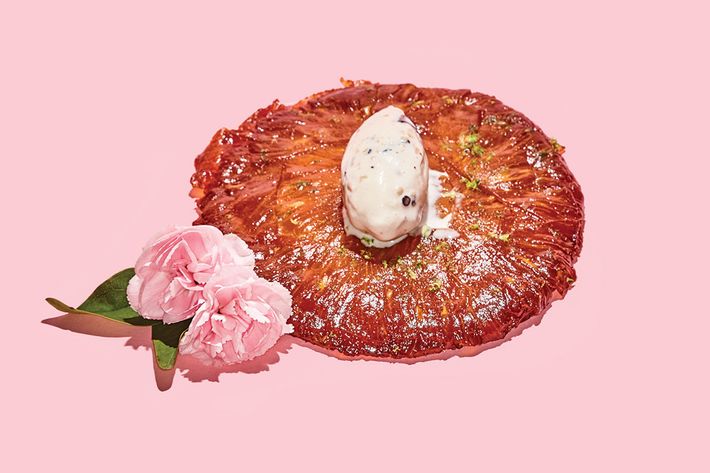 Dirty French's Tarte Tatin
When you think tarte Tatin, you think apples. But Rich Torrisi's pineapple tarte Tatin — larded with sliced banana for creaminess — changes all that in one bite. $15. 180 Ludlow St., nr. Houston St.; 212-254-3000.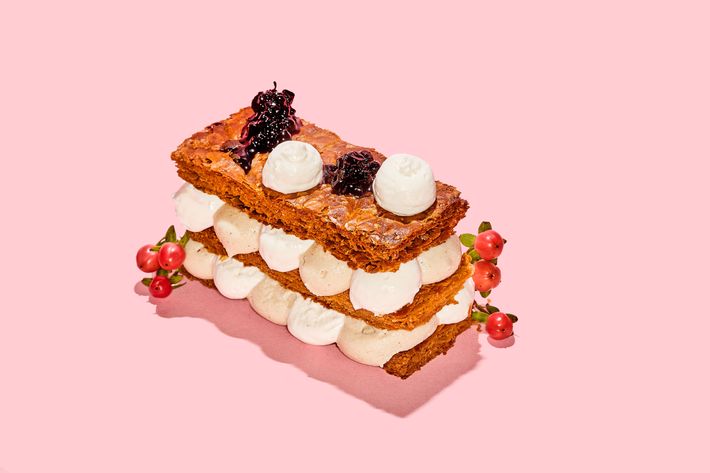 Rebelle's Mille-feuille
Pastry chef Samantha Chen makes her own flaky "thousand-leaves" puff pastry, tops it with huckleberry compote, and layers it with yogurt mousse and nutty taro mousseline — a nod to her Taiwanese roots. $24 (to share). 218 Bowery, nr. Prince St.; 917-639-3880.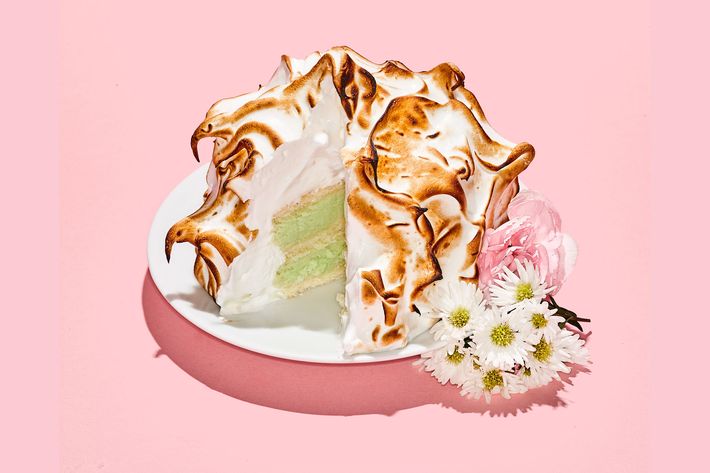 M. Wells Steakhouse's Baked Alaska
M. Wells picks up where Delmonico's left off, plopping ice cream onto cake, spackling it with meringue, baking it for a while, then dousing it with anise liqueur and torching it tableside. $20. 43-15 Crescent St., Long Island City; 718-786-9060.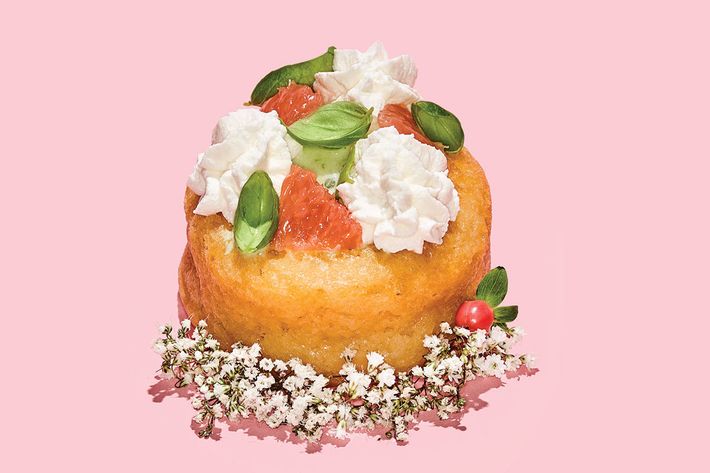 La Sirena's Baba al Campari
Baba au rhum reinterpreted for a Mario Batali restaurant by former Le Bernardin pastry chef Michael Laiskonis. The cake is soaked in everyone's favorite deep-pink aperitif and topped with basil ice cream. $14. 88 Ninth Ave., at 16th St.; 212-977-6096.
*This article appears in the May 30, 2016 issue of New York Magazine.