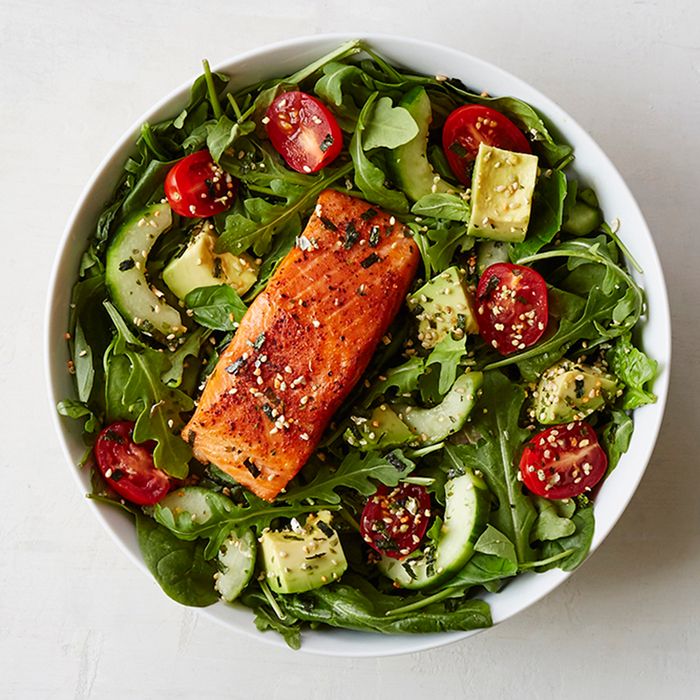 The new OMG Omega bowl has sustainably sourced trout.
Photo: Sweetgreen
Salad chain Sweetgreen announced two menu changes today: The fast-growing and deep-pocketed company says it started contemplating how to make food healthier, and it's decided the first step is banning all traces of bacon, as well as sriracha, from its 50 locations. The action kicks off a larger campaign to fix America's "broken" food system that Sweetgreen wryly dubs "Make America Healthy Again." (Yes, there are Trump-style hats.) Everyone's favorite Thai hot sauce had to go because it packs too much added sugar (thanks, Michelle Obama); it's been replaced with dried chiles. As for people's beloved strips of cured pork, the chain says, "Simply put, you can't be a healthy food business and serve bacon."
To at least throw fans a bone, Sweetgreen pairs the announcement with news of two new health-conscious bowls: the "Hello Portobello," which is packed with wild rice and roasted mushrooms, and "OMG Omega," an option that features avocado and steelhead trout, a sustainably raised fish that the Monterey Bay Seafood Watch rates a "best choice." That is, after bacon.