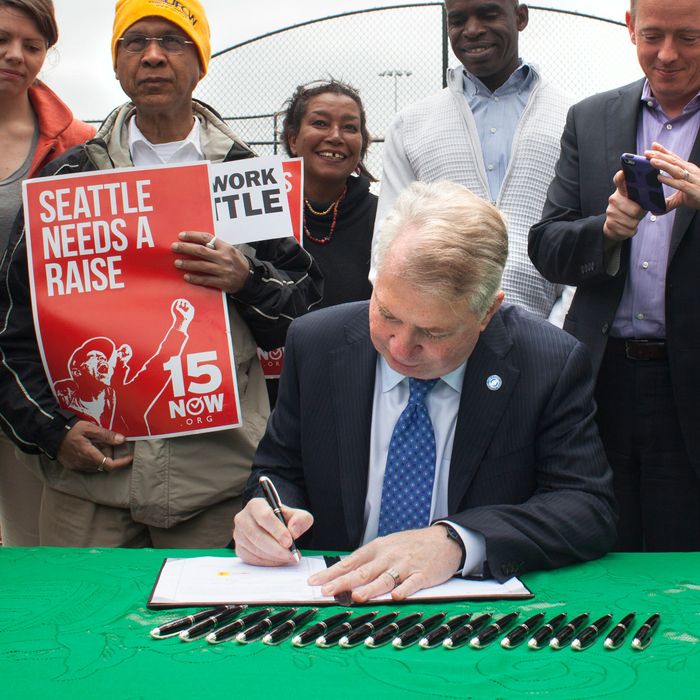 Safe for now.
Photo: David Ryder/Getty Images
Supporters of America's $15-minimum-wage experiment can breathe a little easier: The Supreme Court Monday refused to hear an appeal filed by the fast-food industry that challenged Seattle's 2014 law, the country's first to mandate a citywide "living wage." It's the first time SCOTUS has weighed in on the legality of the trend, which has now spread from New York to San Francisco, and activists say it's a good sign the justices don't plan to get in their way.
Franchisees for big chains like McDonald's had argued the law is discriminatory because it treats them like they're corporations instead of small-business owners that are (it's true) on their own when it comes to handling economic difficulties. The way it's written, Seattle's law gives small-business owners until 2021 to raise wages to $15 an hour, but companies with more than 500 employees only get until 2018. The International Franchise Association had tried claiming the raise "affirmatively harms hard-working franchise small business owners," but the Supreme Court didn't agree. Its refusal to entertain a challenge establishes a precedent for other cities and states as well — it means their laws have to treat franchises as part of the parent company rather than as independent businesses.
There are still other legal hurdles on the horizon, like a big challenge filed by restaurateurs in New York. But worker raises, meanwhile, keep on trickling out: Just last week, Cincinnati's mayor also proposed upping the city's minimum wage to $15.
[Reuters]