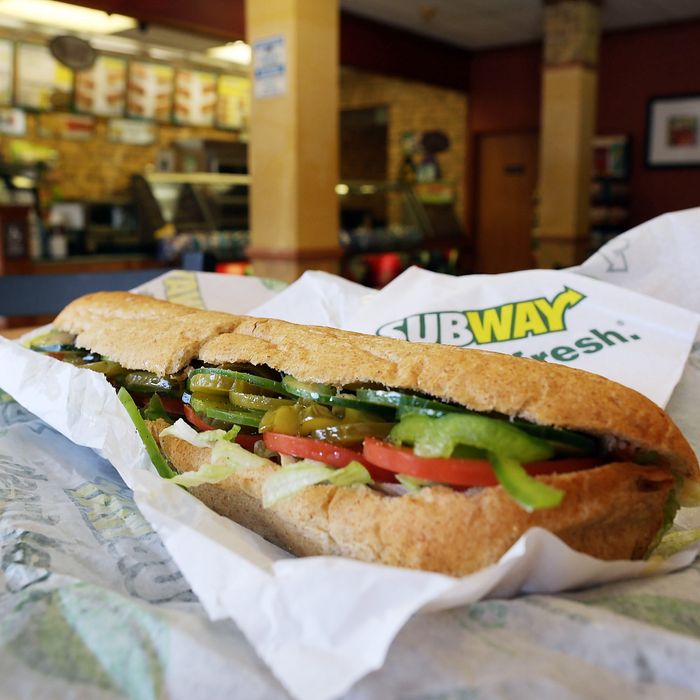 You can do better than this for lunch.
Photo: Joe Raedle/Getty Images
After decades of cramming stores into basically every available nook and cranny around the country, Subway — the sandwich chain whose stores make entire blocks smell like some combination of warm bread and baking vomit — has announced that 2015 was the second straight year revenue has dropped, dipping 4.3 percent in 2015. More than 900 new stores opened last year, but 877 closed, meaning the chain added just 34 locations in 2015 — down from 313 the year before.
Industry-watchers blame "modern rivals" like Panera that cater to younger customers with, per Bloomberg, "items such as quinoa salads and Greek yogurt." But all the yogurt in the world doesn't change the fact that Subway's sandwiches are also uniformly horrible, tending to taste like doughy cold-cut loaves with some unripe tomatoes and raw peppers stuck in there. And it probably didn't help that the biggest Subway-related story of the past few years concerned the company's onetime spokesperson being sent to prison on charges related to the sexual abuse of children. Also, despite Subway's health-related marketing, people might also be coming around to the idea that nobody really needs an entire foot of sandwich for lunch.
While Grub Street feels for the sandwich artists who have lost their jobs as a result of the downturn in business, it's nice to see Americans turning their backs on an entity that was once wildly popular, despite many obvious indications that it wasn't good for them or the overall health of the country. Maybe there's a chance, however slim, that Donald Trump's supporters will be able to do the same before November.