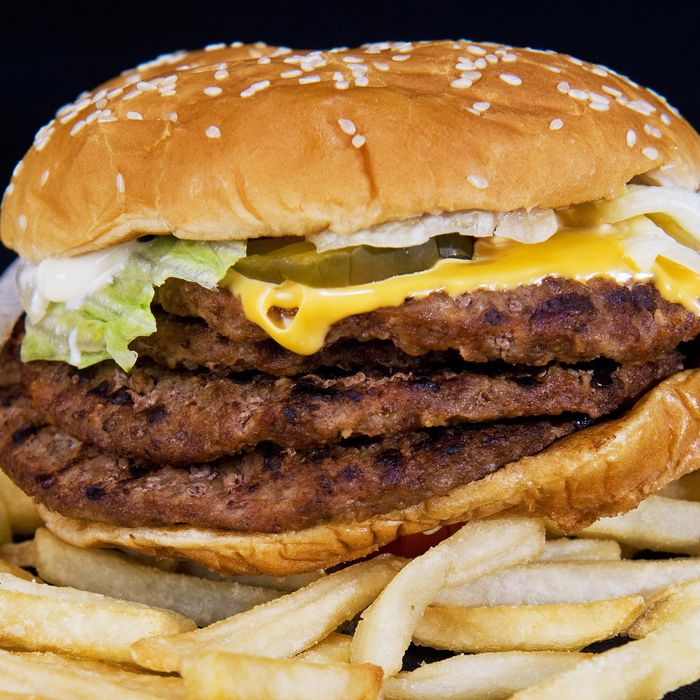 Lots of room for mystery here.
Photo: Paul J. Richards/AFP/Getty Images
Here are some hard-to-swallow burger truths just in time for cookout season: According to a new study, there's a faint but very real chance the meat contains traces of rat or even human. The rather nauseating finding, part of food-analytics start-up Clear Lab's ongoing attempt to ruin all things good and grill-able, came from sampling 258 burgers that ran the gamut from frozen aisle to fast-food drive-through. Researchers say that, after genetic testing, three products contained rat DNA, and one regrettably had a little bit of human, most likely a chunk of "hair, skin, or fingernail that was accidentally mixed in during the manufacturing process."
They concede it's "unpleasant" to learn little bits of human or rat might be in your burger, but the team also reminds people those things are "not likely to be harmful for human health." In fact, what concerns them more are all of the other label discrepancies. For instance, beef and pork turned up in products that didn't list them as ingredients, which is hugely problematic for people with religious dietary restrictions. Several vegetarian burgers technically weren't vegetarian burgers, a category they note "did not fare well" just in general: Nearly a quarter had some kind of discrepancy, and 16 percent were missing at least one ingredient, including a black-bean burger that contained no black beans whatsoever.
Fast food, meanwhile, was fairly hygienic — could Donald Trump be right about something after all? — but big disparities popped up between the nutritional values listed on menus and the nutritional values they measured in products. It was bad enough for them to blast fast-food menus as "especially egregious in misrepresenting caloric values." Thirty-eight of the 47 samples had more calories than they were supposed to, and 12 of those 38 were "at least 100 calories per serving" over what the menu stated.