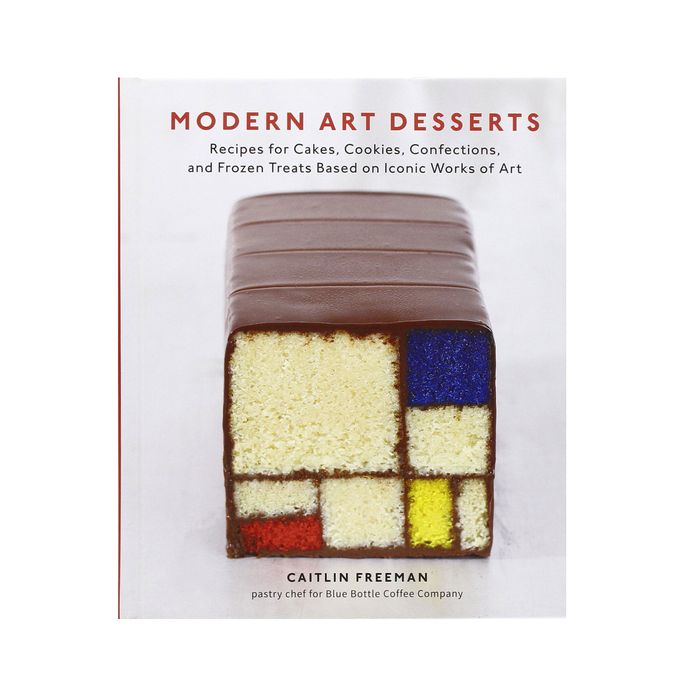 Blue Bottle pastry chef Caitlin Freeman's art-themed cakes put the San Francisco Museum of Modern Art's food on the map. Anyone who's patronized the cafés, started by her husband James, has seen copies of Modern Art Desserts, the cookbook with her famous Mondrian cake and 26 others she created at SFMOMA that pay homage to artists like Warhol, Koons, and Lichtenstein. Unfortunately, the Freemans lost their physical SFMOMA Blue Bottle location last year when the museum decided not to re-up the contract (food is now by a museum-café operator called McCalls, and coffee is by rival Bay Area cult roaster Sightglass), but apparently the museum expects her acclaimed art cakes to stay put. As the Chronicle reports, she made a curious discovery while touring the museum, which just reopened last week after renovations:
When she reached the fifth-floor eatery and sculpture garden — now dubbed Cafe 5 — her heart dropped.

"I walked up and was like, 'Wait, what? What are these desserts?'" said Freeman.

There, right on the Cafe 5 menu, was an entire section dedicated to "art-inspired cakes," with sweets mimicking individual art pieces, such as a peanut-butter-and-banana cake named after Andy Warhol's "Triple Elvis" and a slab of layered fruit creams based on Ellsworth Kelly's "Gaza."
She calls the cakes a "direct rip-off" of the desserts she was serving months ago in the very same space. The café hasn't sunk to Mondrian-inspired chocolate ganache yet, and legally there's very little the Freemans could do anyway, but the Chronicle says Caitlin did send SFMOMA an angry letter. The museum replied, saying it would "consider asking" McCalls to cool it with the copycats. The real head-scratcher, though, is that SFMOMA is making a big deal out of a new restaurant that will be run by Benu chef-owner Corey Lee, and the concept is described as a space that will re-create (and duly credit) dishes from 80 famous chefs — a set that includes fellow pastry chef Dominique Ansel.