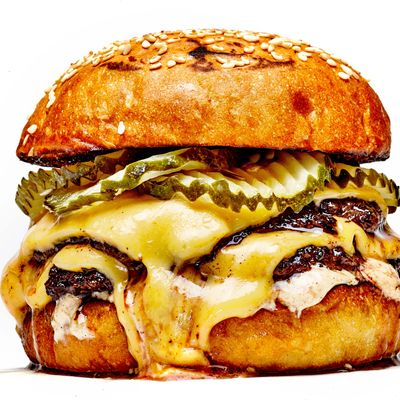 You'll have to wait a few weeks to eat one of these again.
Photo: Bobby Doherty
A kitchen fire broke out at April Bloomfield and Ken Friedman's newest restaurant, Salvation Burger, Monday night, causing guests of the restaurant and its building, the Pod Hotel, to evacuate. After the fire broke out around 7 p.m., smoke from the kitchen fire spread through 13 floors of the hotel, and it took firefighters about an hour to get it under control. While no guests or employees were hurt, a single firefighter was injured and a rep sends word that the kitchen was "severely damaged." As a result, it will close for a few weeks to allow for repairs to the kitchen. This is a tough draw for the restaurant, which opened in February and was recently reviewed by Eater and the New York Times, but Bloomfield and Friedman will bounce back.
[CBSLocal]