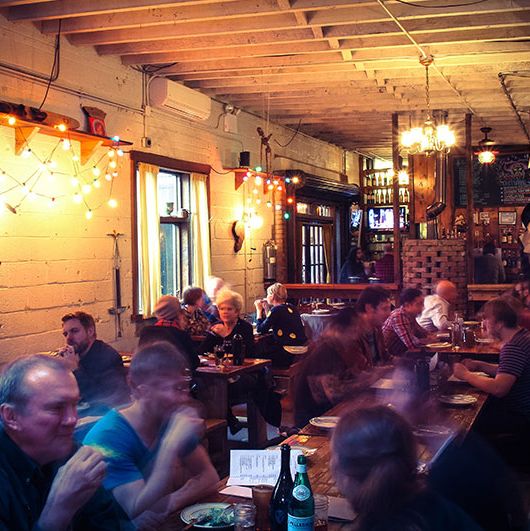 What will an influx of cash do to the classic Roberta's culture?
Photo: Courtesy of Roberta's
Is this what it looks like when a fiercely non-corporate restaurant finally sells out? The owners of the ramshackle Brooklyn pizzeria Roberta's are negotiating a deal that would bring a member of the billionaire Tisch family in as an investor. Alice Waters he is not. Final details are still being negotiated, but Eater reports that real-estate scion Michael Tisch will, if all goes according to plan, invest the money through a company called Chorus Hospitality. Tisch has gone in on Chorus with Ben Grieff, who has worked with the very un-Roberta's-like and now-defunct Crown Hospitality Group. Roberta's chef and co-owner Carlo Mirarchi says he won't use the money to clone the original restaurant, but will instead put it toward renovations, growing the wholesale bakery business, and possibly opening a steakhouse.
Roberta's, meanwhile, is still facing some much-publicized legal and financial woes, including an ongoing lawsuit between the restaurant's original founders and a class-action lawsuit over allegations that some kitchen employees weren't paid overtime. Evidence was also uncovered last year suggesting that the restaurant owed almost $480,000 in back taxes.
Some staff have reportedly not responded well to the development, with Eater learning that at least 20 employees have quit in recent months. Mirarchi insists the arrangement is purely financial and that Tisch will not have any creative or operational involvement. He did, however, tell Eater that the staff's party vibes hampered diners' good times and that shouldn't ever be the case. So it sounds like there may be some changes to the Roberta's lifestyle. Roberta's, of course, is Roberta's, and for better or worse the roughshod service is part of the place's overall energy, and it makes at least some sense in a place with a cheeky "sticky buns" poster on the wall and a tiki bar that looks like it was built by Tom Hanks's character in Castaway. Tisch, meanwhile, has reportedly promised not to wear suits when he's at the restaurant. Great relationships are built on a foundation of compromise, after all.
[Eater NY]