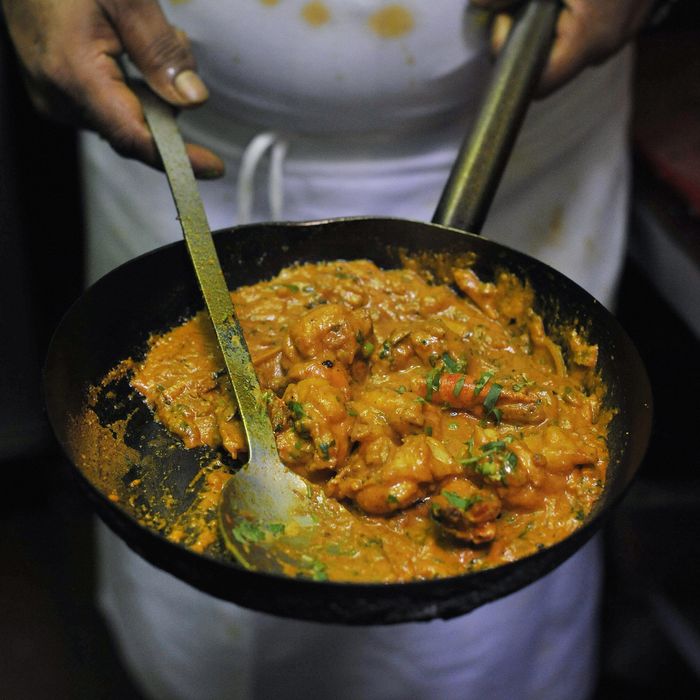 The restaurateur allegedly got "numerous warnings" about the risks of peanuts.
Photo: Carl de Souza/AFP/Getty Images
A upstanding-sounding restaurant owner is on trial right now in England for the death of a customer who reportedly warned staff about his deadly nut allergy but was served curry made with peanuts anyway. Mohammed Zaman's Yorkshire restaurant, called the Indian Garden, allegedly served Paul Wilson, a 38-year-old pub manager, a dish in which expensive almonds had been swapped out for a generic nut mixture. Zaman did it to cut costs, but he apparently wasn't too keen on alerting customers to that fact ("Warning: May contain peanuts because they're a lot cheaper" does make for an awkward menu notice). Obviously, being none the wiser, Wilson took his curry home, ate it, and died that evening.
He allegedly told an employee he couldn't eat nuts, and prosecutors claim the lid of Wilson's takeout container straight-up said "No nuts," even though Zaman fully understood the risk of not disclosing the ingredient — they say he previously reassured his nut supplier he'd add an allergy warning. If this weren't bad enough already, it turns out another customer with peanut allergies had gone into anaphylaxis a month earlier after eating Zaman's chicken korma dish. She was rushed to a hospital in time for an EpiPen injection. Her mom says the restaurant later denied that her daughter's food had contained any peanuts.
Zaman "put profit before safety" and had a "reckless and cavalier attitude to risk," prosecutors told the court, adding that he was employing workers illegally to further reduce his costs, and that he "blamed others" when interviewed by police. He's been charged with manslaughter for his negligence, which is believed to be the first time that's happened to a restaurant owner in England.