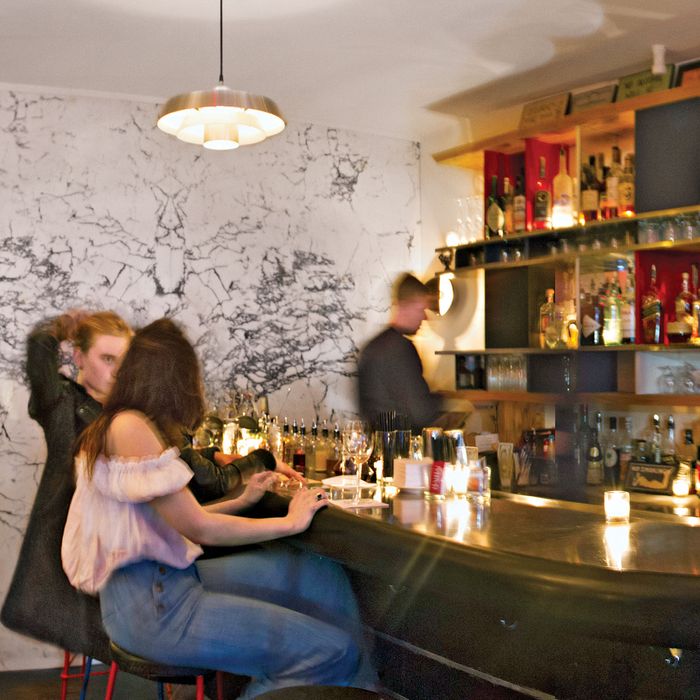 Mimi
Photo: Tirzah Brott/New York Magazine
I can't remember precisely when it was during my first dinner at a small, randomly named Village bistro called Mimi, but I turned to one of my guests and muttered, with my mouth half-full and only semi-­intelligibly, a phrase roughly translatable to "So where the hell has this place been all my life?!" Possibly it was after a little platter of white asparagus appeared at our table, plump, perfectly cooked, and dressed in a strange, smoky porridge stirred with bits of fresh uni. Or maybe it was the mind-bending boudin noir appetizer, which in the hands of Mimi's precocious 25-year-old chef, Liz Johnson, isn't a classic blood sausage, really, at least not in the old-fashioned, fatso sense of the word. The sausage is cut in a loose square, like a piece of country scrapple, poured with a pink verjus sauce, and served over a slip of tarte Tatin pastry covered not with apples but with rhubarb.
Johnson has been serving up these odd little wonders in this semi-anonymous little bistro, which has been hiding more or less in plain sight ever since it opened several months ago among all the other small, semi-anonymous restaurants along Sullivan Street below Washington Square. The stylish little dining room was mostly empty when I visited, although in fairness, I should note that I like to have my dinner on the early side. A soothing saxophone loop played over the stereo, and a few regulars sat at the small bar up front, sipping their aperitifs in spring dresses and fashionably rumpled coats. Our genial waiter acted less like a real waiter than like somebody's friend who'd been dragooned into service that night (he's one of the co-owners, it turns out), and the dated menu was written on a single page in the chef's big, loopy handwriting.
But once the food begins to arrive from the small basement kitchen, these familiar bistro trappings drop away, and dinner at Mimi takes on a kind of carnival, pop-up feel. Johnson has done lightning tours of grand kitchens in far-off places like Denmark (Noma, of course) and Japan during the course of her short career, and although her cooking is rooted in the ancient French canon, she grabs inspiration from all over. Because the menu changes constantly, she doesn't stick to one theme for very long. Regulars, who've been badgering me to visit the restaurant for months, talk in hushed tones about the decadent old-school specials on her winter menu, like tureens of turtle soup for two, folded with foie gras and nuggets of salty country ham, and a theatrical version of duck à l'orange, presented with the head still attached to its neck, doused in Grand Marnier, then lit aflame in the dining room.
These theatrical throwbacks have mostly vanished with the warmer weather, but for a kitchen this size (it's worked by Johnson and her fiancé, who just completed a stint at Per Se), the menu still packs a sizable punch. When we called for an order of pork rillettes, they appeared with all the trimmings (gherkins, sliced bread, a pot of mustard) in a cannonball-size jar and caulked on top with a comforting layer of pig fat. In addition to the boudin noir, the fusillade of appetizers included sweetbreads dressed in an impressively executed scallop blanquette, towers of escargot (in puff pastry), and fresh-made gnocchi layered with uni and little nickels of white asparagus. For lighter eaters, there were helpings of sea trout, gently sizzled soft-shell crab, and little strips of madai crudo dripped with citrus and brown butter, presented in high Tokyo style with little silver-tipped chopsticks.
"If this place opened in Silver Lake, it would win 40 James Beard Awards," mused a chef friend of mine from L.A., as he pondered his Ludo Lefebvre-like lamb entrée, which consisted of two thick slices of lamb leg poured with a jus spiked with wild nettles, arranged on the plate with a sinfully rich square of potato dauphinoise. My sugary-edged, deeply porky pork shoulder exuded a similar combination of barnyard goodness and classic technical skill, and so did the roast chicken, which Johnson serves with toasted potato dumplings on the side. My bloated, slightly bedazzled guests agreed that her faithful version of veal Oscar (swaddled in bacon with a viscously creamy crab sauce) was possibly too much of a good thing, so if you're in an expansive mood, I suggest the Cadillac-size Maine lobster, which, on the evening I enjoyed it, was smothered in gouts of parsley-rich escargot butter.
Mimi has been designed by its trio of young owners (one Parisian, two New Yorkers) to be a stylish neighborhood bar as well as a restaurant, which means you can enjoy a decent Negroni on the little café chairs set up on the sidewalk before dinner, along with a selection of deceptively modest French wines once the food arrives. The desserts are deceptively modest, too, in the style of one of those polished small-town bistros you might wander into while rambling around, say, the Breton countryside. There is a generously sized soufflé, which, like any self-respecting soufflé, must be ordered 20 minutes in advance, and a soft, cocoa-saturated wedge of chocolate tart, paired with a cooling scoop of cow's-milk sorbet. But the star of this unexpectedly dazzling show is the baba au rhum, which is served with clouds of freshly whipped cream on its soft, egg-colored top and finished with a tot of rum poured, with proper ceremony, tableside.
Mimi 185 Sullivan St., nr. Bleecker St.; 212-418-1260; miminyc.com Open: Monday to Saturday for dinner; Sunday for brunch. Prices: Appetizers, $7 to $21; entrées, $26 to $39, and $80 for dishes for two. Ideal Meal: Pork rillettes, soft-shell crab or escargot or ris de veau (sweetbreads), lamb with nettle sauce, baba au rhum. Note: There is a new menu weekly, so much of what you read here is subject to change. Scratchpad: This is a classic two-star joint by most measures, but we'll give one star for customer satisfaction, one for classic technique, and one for good old joie de vivre.
*This article appears in the May 30, 2016 issue of New York Magazine.