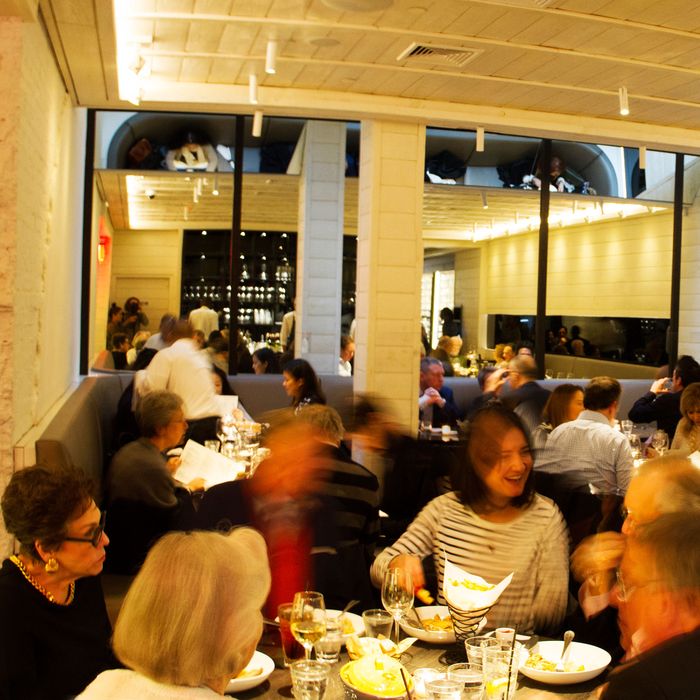 Le Coq Rico.
Photo: Tirzah Brott/New York Magazine
At certain distinguished dining establishments, the staffers will talk to you about wine in enticing and endlessly learned ways, and at others, they will spin elaborate tales about the quality of the day's asparagus, or the fresh oysters, or even the pizza pies. But at Antoine Westermann's civilized new Flatiron District bistro, Le Coq Rico, the topic is chickens. "Do you have all the birds tonight?" I overheard the connoisseur at the next table say as I sat down to my dinner one evening. The man's voice carried the kind of knowing, arch tone that can send distress signals throughout an unprepared dining room, but the server at this upscale chicken house was prepared. "We don't have the Cornish tonight," he said, referring to the famous hen in the same way a sommelier might discuss a young vintage of Puligny-Montrachet. "The chef thinks they need a couple more weeks to develop."
Westermann won three Michelin stars at a restaurant called Le Buerehiesel in that famous goose capital Strasbourg, and he helped pioneer this kind of haute poultry cooking at the original Le Coq Rico in Paris. With its wood floors and generically modish bistro furniture, this is a simpler version of that first restaurant, and on busy evenings, the slightly ungainly space (two narrow bars with a dark dining room in between) can feel as crowded as a proverbial chicken coop. But when you open your menu, you will find the age of each whole bird listed next to their not-inconsiderable price (at $95, that Cornish hen actually costs as much as a middling Montrachet), and if you ask politely, the wait staff will provide a pocket-size book, penned by the chef himself, describing the history and lineage of the pampered, boutique breeds you are about to devour.
Which may be why several of my guests who visit France often, and like to denounce the grim, gulag state of the industrialized American chicken every chance they get, felt like they'd ascended to some kind of rarefied poultry heaven. This is especially true in the early stages of dinner, when the knowledgeable server brought us Westermann's offal platter (chicken hearts stuck with bits of apple on little bamboo spindles being the highlight), and a series of carefully fashioned "Eggz" dishes (tangy deviled eggs, soft-cooked eggs crusted with almonds over fresh asparagus, and sunk en meurette, with mushrooms and bacon in a delicious red-wine reduction). We also enjoyed a tartly dressed salad ringed with sizzled chicken livers, and a classic rendition of foie gras en croûte (velvet duck foie, a scrim of gelée, a fresh pastry crust) that, at $32 for a single slab, cost roughly $8 per bite.
Which brings us to the delicate subject of the cost of dinner at Le Coq Rico. Before my merry band of tasters and I even got to the impressive roster of whole roasted birds, we had to fight our way through a blizzard of smaller entrées, some of which were worth their inflated price tags and others that were not.
A small, watery $34 fricassee consisting of bullet-hard chicken chunks and barely visible shreds of Maine lobster tasted, according to one of my slightly peevish guests, like "an elevated form of hospital food." My gamy, perfectly roasted squab breast ($34, and packaged, intricately, in softly braised cabbage leaves) was a pleasure to eat, on the other hand, and Westermann's bountiful, strangely underseasoned, tough-boned Alsatian baeckeoffe (an entire bird, simmered in Riesling and a medley of farm vegetables, for a cool $120) was a little bit of both.
A similar unevenness plagues the impressive "Whole Birds" section of the menu at Le Coq Rico, although much of this, in fairness, is a matter of taste. I wasn't wild about my leathery portion of the imposingly large Catskill guinea fowl, although the leg that I spent several minutes gnawing on was improved by the lustrous house chicken jus, which is served with all the birds in a little cream jug. The pride of the list is the Brune Landaise, a French breed that has been raised for 110 days, according to the chef's little poultry book, by Mennonite farmers in Lancaster, Pennsylvania. My Francophile friend loved the "moist and muscly" quality of the meat, although if you're going to plunk down close to a hundred bucks for a single chicken, and you're hooked on the plump, fat-injected texture of the gulag-raised American bird, I recommend the familiarly salty, crispy-skinned Barred Plymouth Rock.
The sheer size of the mature "to share" birds at Le Coq Rico can also be a bit of a challenge (I finished most of the Plymouth at home, over the sink), but whatever you do, save room for the festive house desserts, which look like they've been transported directly from the kitchens of some grand Proustian-era Parisian hotel. I'm thinking of the vanilla-and-strawberry vacherin, which the pastry chef, Matthieu Simon, who did a three-year stint in that other great Continental dessert capital, Vienna, constructs like a baroness's hat, with a base of twirling pink sorbet and vanilla ice cream, a cloud of whipped Chantilly cream, and a pointy top of meringue. The pink house soufflé (cut with rhubarb) and the île flottante (spun egg whites resting in a pool of crème anglaise) are studies in the mostly vanished art of confectionary lightness, and if it's heft you want, call for the mille-feuille, which contains raspberries and freshly whipped egg-colored custard hidden in its puffy pastry layers and is roughly the size of a bread box.

Le Coq Rico
30 E. 20th St., nr. Park Ave. S.; 212-267-7426; lecoqriconyc.com
Open: Daily for weekday lunch or weekend brunch and dinner.
Prices: Appetizers, $12 to $32; entrées, $24 to $120 (including many to share).
Ideal Meal: Eggs en meurette and/or duck foie gras terrine, roasted squab in braised cabbage with a side of potato purée or rice pilaf, the île flottante (or any other dessert).
Note: If you want to observe the chicken cooks at work in their white toques, the best seat in the house is at the second dining counter, in front of the open kitchen.
Scratchpad: One star for the best of the ambitious poultry cooking and another for the superb desserts.
*This article appears in the May 16, 2016 issue of New York Magazine.