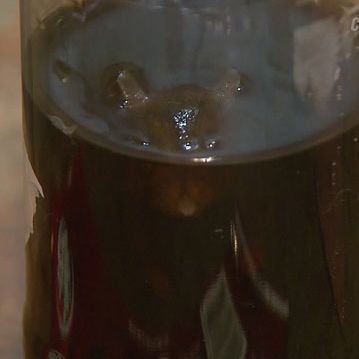 A Houston family claims their 3-year-old's Dr Pepper bottle came with a "pretty good size" rodent inside of it. John Graves tells KPRC that he bought his grandson, Kayden, a 20-ounce soda for a car trip this past weekend. According to the granddad, Kayden didn't finish it, so they immediately recapped and saved the bottle. He says when they opened it the next morning they found this guy doing the dead man's float in there:
Granted, it sort of beggars belief that a "pretty good size" anything could crawl inside a plastic bottle and evade detection until half the soda was gone. The Graveses are insistent, however, and now they're apparently locked in some sort of war with Dr Pepper over testing the bottle's contents "for disease." They don't want to simply hand it over to the company because there's "no telling what could happen to that sample" once they do. They tell KPRC they're happy to take the bottle to an independent lab in the Houston area, but because rationality is a rare quality in situations like these, Dr Pepper has reportedly told them the only such facility it's aware of is located in Kansas.
But it's not like Dr Pepper thinks the rat got inside the bottle on its watch, anyway. The company describes that scenario as "virtually impossible":
"What we know from our experience is that given the controls and safeguards we have in our production facilities it is virtually impossible for any foreign object to enter any container during the bottling process. All of our containers enter our facility on pallets in our warehouse and remain covered until the moment they are placed on our high-speed filling lines. Once on the filling lines, they are inverted and rinsed out before they are filled and capped.
[KPRC]