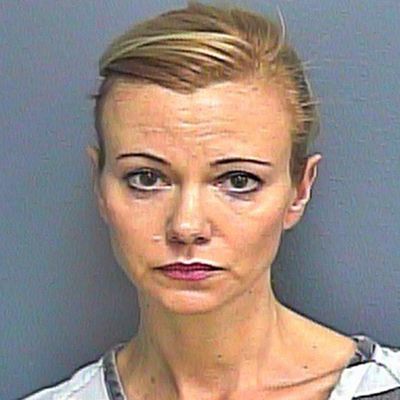 Sarma Melngailis has been missing since last August.
Photo: Sevierville Police Department
Even celebrity vegans can't resist pizza every now and again — no matter what the consequences are. Early last year, the staff at New York's now-closed raw-food vegan restaurant Pure Food & Wine walked off the job, claiming owner Sarma Melngailis hadn't paid them, or even showed up, in weeks. When Melngailis did resurface, she said that during her time away she was "spending 100 percent of every waking moment trying to find a solution" to her financial problems, and that with the help of outside investors she was going to right the ship. But last August, the owner vanished again — this time, it seemed, for good. In fact, she's been missing ever since, and the lawsuits have been piling up. But this week, detectives in Sevierville, Tennessee, caught up with Melngailis and an accomplice, Anthony Strangis.
Authorities say they were able to track down Melngailis, who has also written several cookbooks, after she and Strangis ordered a Domino's pizza to the hotel where the couple was staying. Now Melngailis is facing charges of grand larceny, criminal tax fraud, scheme to defraud, and violation of labor law. Strangis, meanwhile, faces similar charges. And that's not to mention the shame that comes with being done in by mass-market pizza.