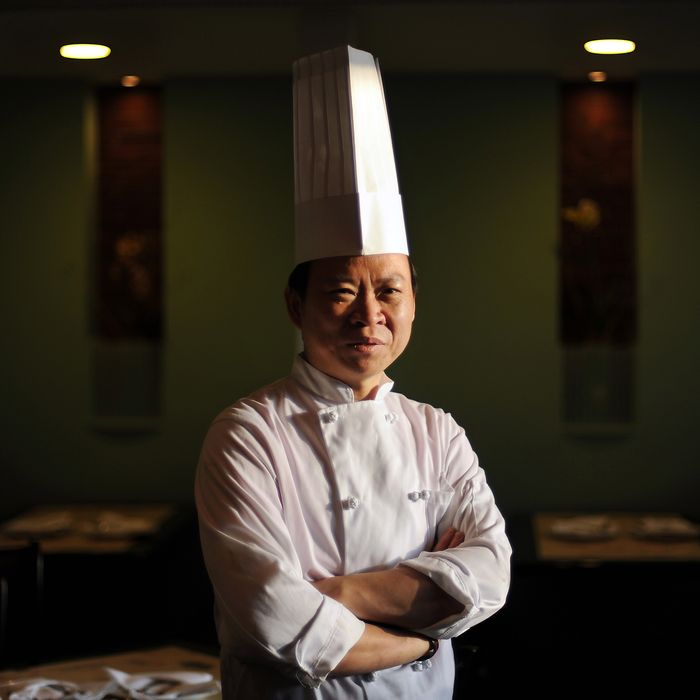 Chang has surely had better weeks.
Photo: Astrid Riecken/The Washington Post via Getty Images
The offending comments (which were inadvertently printed on the check) came after an "awkward, if not tense" exchange involving Chang's family-style rice bowl. One of the diners who "lived in Beijing for much of the 2000s" tried casually schooling the server on how rice is traditionally served in individual bowls in China. (Chang was born in China's Hubei province, used to be the Chinese embassy chef, and has cooked for President Hu Jintao.) The server apparently explained that family-style is Peter Chang's style for large groups, then, when the table asked to split the check four ways, scoffed: "That's totally how they do it in China" (referring to the fact that, over there, one person typically pays the bill).
When the group saw the comments, they asked to speak with a manager, who, in their minds, didn't go far enough to apologize for the insults. "I would say they seemed slightly embarrassed," one of them tells the Washington Post. "It wasn't like, 'We're so sorry. This is unprofessional. We mean to treat our customers better.' It was more like, sorry-this-is-embarrassing-it-was-a-joke sorry." The manager's apology struck Chang and his business partner Gen Lee as inadequate as well, and they've spared no one involved in the "plad"-gate incident.
The Post asked if Chang was really planning to fire his daughter, and Lee responded: "Business is business." Chang's daughter had very little management experience before taking up her post, and Lee says he tried to warn Chang that inexperience up top can mean trouble below. "He realizes it now," Lee adds. "Unfortunately it's too late — but I hope not too late."
Chang issued a statement as well that said: "I am sorry, my respected guests. I also apologize to all my friends who have had trust in Peter Chang. We made a mistake and let you down." Lee says he will now personally manage the location.
[WaPo]