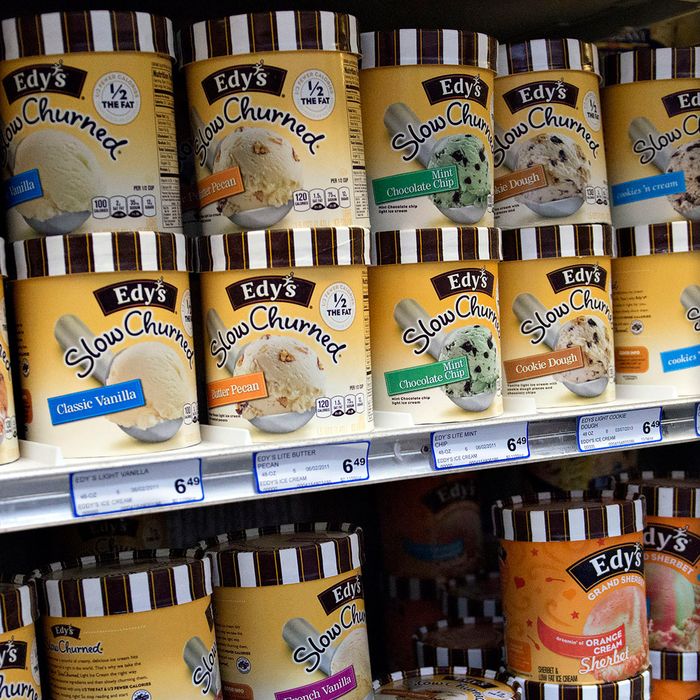 They're smooth criminals.
Photo: Daniel Acker/Bloomberg via Getty Images
Police say there's a serious ice-cream crime epidemic afoot in New York. What began as a few brazen heists has gelled into a clear pattern of thieves swiping pints of Häagen-Dazs and Ben & Jerry's from drugstores so they can resell them to bodegas for a bargain price, NYPD officials tell the Post. The paper says at least ten CVS and Duane Reade stores have been burglarized in the last year. One particularly ballsy looting made the news in October when bandits hauled off 242 pints in broad daylight from a Tribeca Duane Reade, but that's no longer even the craziest heist: Police busted a group of seven people in February who were responsible for multiple thefts, including one worth an estimated $1,683 in ice cream. Just days later, another set of thieves absconded with nearly 300 pints from two midtown Duane Reades, and a CVS in Chelsea has been hit three separate times now.
Police don't have much to work with either, since it's next to impossible to prove a bodega's pints were fenced, and eventually "the evidence is eaten." Drugstore managers describe these thieves as like the Mission: Impossible team if they were reduced to committing incredibly boring petty theft: "They look to see if the employees are distracted or ask for help, and then they go back there and take it. … They don't want to come in with a big, huge bag, so they do it little by little over the course of an hour." And odds are the situation will get worse now that it's warm enough to be ice-cream-eating season: The crime spree could increase, and the pilfered frozen dairy will start getting way meltier.
[NYP]