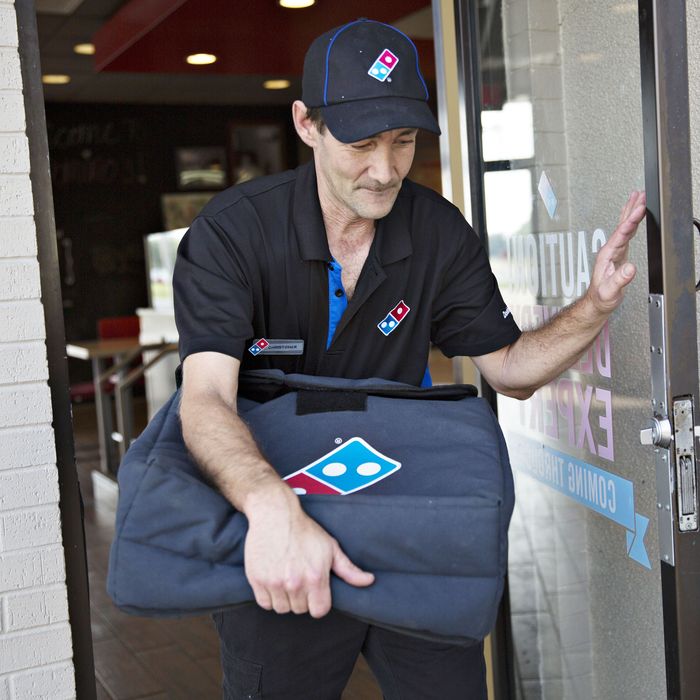 The corporate cost of low pay just got higher.
Photo: Daniel Acker/Bloomberg Finance LP/Getty Images
New York attorney general Eric Schneiderman is going after Domino's with a new lawsuit alleging wage theft — which is frankly nothing new, as his office is enmeshed in an ongoing war with the low-paying fast-food industry. However, this time his suit also argues the chain should be considered a "joint employer," and therefore legally responsible for the stupid things franchisees do. Labor groups have been trying to reclassify fast-food corporations as co-bosses for years (McDonald's is currently fighting off such a challenge from the National Labor Relations Board), which makes Schneiderman's lawsuit a big victory in their eyes.
If Domino's loses, it will be accountable for the "rampant wage theft" that occurred at stores run by three franchisees. Schneiderman's office argues it takes real gall to contend that franchisees are "solely responsible for the hiring, firing and payment of their own employees": Like most chains, Domino's has a company-wide computer system where all workers log their hours. However, the lawsuit charges that, unlike other chains, Domino's system was undercounting these hours, and that executives knew about the problem "since at least 2007." They allegedly decided not to fix the flaw, labeling it a "low priority." Yet according to the Domino's computer records the state obtained, 78 percent of employees received subminimum wages at some point, and 86 percent were bilked out of overtime pay.
Domino's franchisees in the state have already agreed to pay $1.5 million in back wages, and the chain says it proposed a number of solutions going forward that the attorney general rejected. The chain says the suit "disregards the nature of franchising and demeans the role of small business owners," but Schneiderman explains he's just curious how any corporation that controls "how many pepperonis are on each pizza" doesn't have a say in employee pay.