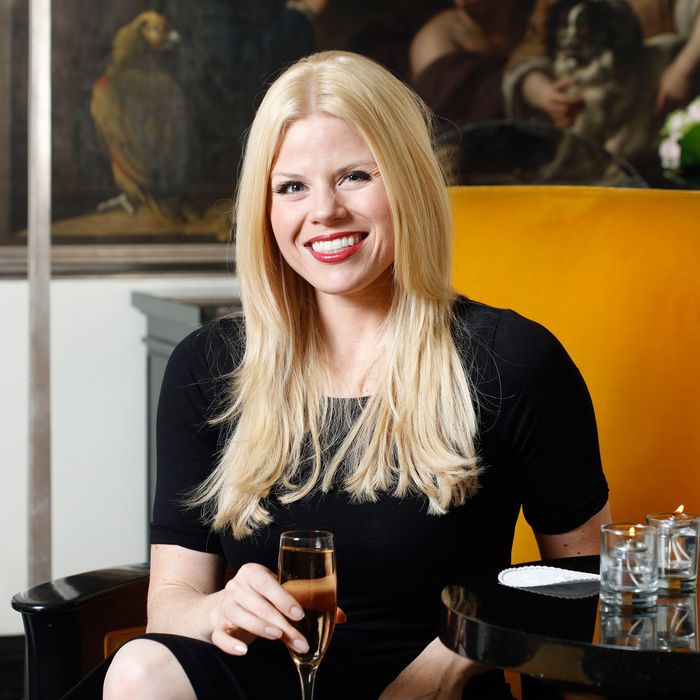 Hilty at Bemelmans, "the sexiest bar in New York."
Photo: Melissa Hom
Megan Hilty has a long, illustrious career on Broadway — and off, as she famously starred in the musical-television show Smash, recently released a live album, and will appear on Hulu's Difficult People and CBS's BrainDead this summer — but this is the first time in her life that she's been nominated for a Tony, for her work in the revival of Noises Off. She spent much of the last week preparing for the June 12 awards show, attending a luncheon (where she was so emotional that she barely ate) and a toast at the Lamb's Club (where she kicked back with bourbon cocktails). Otherwise, it's business as usual in the Hilty household, with Taco Mondays and family breakfasts. Read all about it, straight ahead:
Thursday, May 19
I'm obsessed with my Nespresso machine, so, before I can do anything, I make myself an Americano with Califia non-dairy creamer and two Splenda. Dairy just doesn't agree with me. For breakfast, I made a scramble with two eggs and Daiya vegan pepper-jack cheese shreds, topped with salsa and a quarter of an avocado. I love Applegate organic chicken-and-sage sausages, so almost every morning I have three of them. (They're small!) I also took my multivitamin, fish oil, vitamin D, and probiotic.
Like most New Yorkers, we're pretty busy, and our schedule is constantly changing. Since my work is generally done at night, we decided that our big family meal would always be breakfast instead of dinner — which is great because we're all morning people, and I love the idea of connecting as a family before we begin our day.
After getting my daughter [Viola] ready for her tiny-tot gym class and an afternoon with her babysitter, I got myself ready for the Tony Award nominee luncheon. It's a good thing I had such a substantial breakfast, because, while they served a gorgeous lunch (steak, green beans, and potatoes), I couldn't eat much of it. It turned out to be quite an emotional afternoon — I couldn't believe I was there, surrounded by friends and heroes. It also felt rude to eat while people were making speeches, and I didn't want to miss a minute of it.
Once I got home, I spent the rest of the day with my family. It was a night where we were all home, so we made turkey burgers with vegan cheese (no bun, unfortunately) and roasted cauliflower and salad as side dishes.
Friday, May 20
I made breakfast for Vi and made sausage (chicken and sage), but not before my Nespresso with almond milk. That's all I had time for before I took her to class. Afterwards, went to a farmers' market on our block. We talked to all of the vendors, stocked up on our eggs and produce, and shared an apple for our snack.
I put a banana and a packet of Justin's almond butter in my bag, in case I got hungry, and made myself an iced coffee with coconut milk.
It's a good thing I packed a snack, because I was off to host the Drama League Awards, and while they served a great lunch for everyone there, I was working the entire time, so I couldn't eat any of the beautiful food they prepared for us.
Once the award ceremony was over, I ran home, changed into some comfy clothes, put my daughter in her stroller, grabbed my husband, and went for a long walk in Central Park. It was a gorgeous day — the kind where all you want to do is sit outside and have a margarita — so we did! We went to Gabriella's — a tasty Mexican restaurant that we love in our neighborhood — and had frozen margaritas and chicken nachos.
Saturday, May 21
For breakfast, I made omelettes with two eggs, spinach, and feta. And, of course, I had my coffee with almond milk. I'm starting to realize that I drink a lot of coffee!
I had another midday event, and I didn't want to skip lunch again, so I ordered Bareburger on Seamless (every New Yorker's best friend!). I got a turkey burger with vegan cheese wrapped in collard greens, and sweet-potato fries on the side.
I headed down to the Meatpacking District for Vulture Fest — I was doing a panel for Difficult People. Before I got in the car, though, I made myself an almond-milk latte and put it in a travel mug.
After the panel, I went home to play with my daughter and feed her. (She got turkey meatloaf, sweet-potato mash, and some peas.)
We had tickets to see The Robber Bridegroom that night (which was fantastic!) and wanted to have a nice dinner date beforehand. When we were thinking about where to go, we realized that we had never been to Sardi's, arguably the most famous theater restaurant in New York, for dinner before — only for events and to sit at the famous bar. We had such a great time! We chatted with the tables on either side of us and ordered the salmon with sweet-potato mash and a tomato-and-burrata salad. We may have had the chocolate cake for desert, too! And it was delicious!
Sunday, May 22
We ordered breakfast from one of my favorite places in New York: Kitchenette. I had a protein plate with scrambled eggs, spinach, and feta and their famous turkey-apple sausage.
For lunch, we kept it very light because we knew we were going out to our favorite restaurant for dinner. Small garden salad with balsamic dressing.
My husband and I love introducing people to our favorite restaurant, Quality Meats. We are obsessed with this place and had been looking forward to this meal all week. I had tomato soup with grilled-cheese croutons to start. For the main course, a filet mignon (medium rare) and bites of all of these amazing side dishes we ordered for the table: corn crème brûlée, broccoli and cheddar bites, Parmesan waffle fries, gnocchi and cheese, and a green-goddess salad. For dessert, we had a sticky-toffee bun with fig ice cream. Oh, and I had one of their signature bourbon cocktails called Dead Ringer. It had muddled apricots in it and was so good!
We also love introducing people to our favorite bar, Bemelmans Bar, at the Carlyle. We headed there after dinner to sit in the sexiest bar in New York and listen to great music. They have incredible musicians there all the time — that night our friends, Jim Caruso and Billy Stritch, were playing, so we had a great time!
Monday, May 23
We needed something light to balance out the damage we had done the night before, so I made my "Megg-muffins." I put scrambled eggs, chicken sausage, spinach, onions, and feta in lightly greased muffin pan, and bake them at 350 for 20 minutes. Super easy, and a really fun variation on the healthy foods we eat almost every day. Each of us gets two muffins (or more!) topped with avocado slices, and I like to add a little Cholula sauce.
We had a lunch meeting at our apartment about the Christmas album we're making at the end of the month. While everyone ordered from Bareburger, I tried to be good and made a salad with spinach and field greens, cherry tomatoes, and cucumbers, topped with a scoop of chicken salad. I also had seaweed strips to satisfy my need for something crunchy and salty.
If I'm having a tough time with my voice, I make this little cocktail of hot water, and I melt the original Ricola in it, and then I put a scoop of coconut oil, because it has natural anti-inflammatory properties. Coconut oil is just magical. I use it to remove makeup; I put it in my coffee; I use it to cook everything. I'll sip that all through a show if needed.
Dinner: Taco Monday! Most people do Taco Tuesday, but since we use almost every annoying substitution you can imagine, it seemed right to substitute the day, too! I use turkey taco meat, vegan pepper-jack cheese, pico de gallo, guacamole, Greek yogurt (instead of sour cream), and romaine lettuce (instead of taco shells).
Tuesday, May 24
We had leftover turkey meat from Taco Monday, so we made a scramble with it — eggs, taco meat, vegan Cheddar cheese, guacamole, and salsa.
It may have been a bit of a mistake to have such a hearty breakfast because then I had to go to a fitting for the gown I'm wearing to the Tony Awards — oops! After that, I went home to meet with our friend Matt Cusson, who brought all of his recording equipment so we could work on the song we're doing for his next album. We all ordered from Ozen, and I had steamed chicken and snow peas with brown rice and a couple of chicken dumplings.
We made dinner for our daughter: grilled chicken, toasted bread, and spinach bites. And then I got ready to go to the Tony Awards toast at the Lamb's Club in midtown. There I had one of their bourbon cocktails and a turkey meatball — both were delicious.
As soon as I got home, I put on my pajamas, heated up some turkey meatballs from FreshDirect, and curled up on the couch with my husband to binge-watch Unbreakable Kimmy Schmidt. It was the perfect way to end the day.