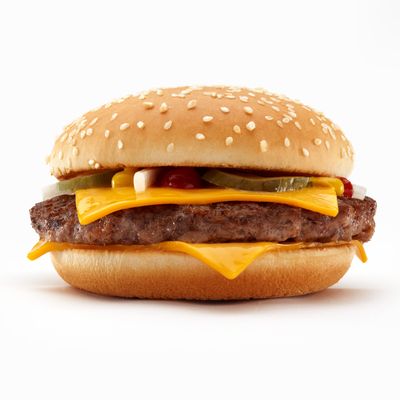 The Quarter Pounder now bringing its A-game.
Photo: McDonald's
McDonald's has been stealthily conducting a very small test of an exotic ingredient to see how well customers respond. The ingredient is unfrozen meat, and a company spokesperson confirms to Nation's Restaurant News that the chain's putting it on Quarter Pounders right now at 14 lucky Dallas-area locations.
Sadly, there's no more detailed information (Does it slow down service? Does it make patties look less like hockey pucks?), but spokeswoman Lisa McComb did manage to get out that it's too early to tell if this is something McDonald's will try doing on a larger scale. "Like all of our tests, this one too is designed to see what works and what doesn't within our restaurants by considering the operational experience, customer response, price points and other important information, which may inform future decisions," she said. "It's very premature to draw any conclusions from this test."
Obviously, bringing fresh beef to all McDonald's locations would be a huge undertaking. Everything from the way workers are trained to make the food to the corporate system for shipping ingredients nationwide is built around patties being frozen. If franchisees weren't at all lovin' the hassles that came with the rollout of all-day breakfast, imagine a paradigm shift involving unfrozen beef. The test is the best evidence yet that McDonald's wants to take its burger game to the Shake Shack and Five Guys level, rather than just rely on shiny tech gimmicks and cheap meal deals.
[NRN]