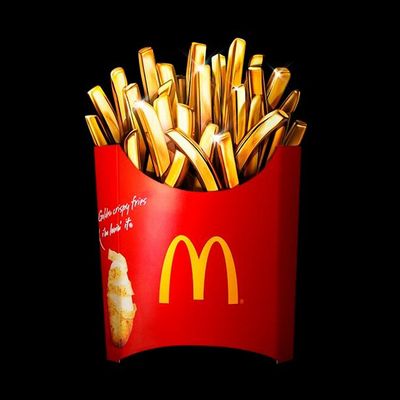 Who doesn't want one of these sitting on their shelf?
Photo: McDonald's Japan
For its newest stunt, McDonald's is stooping to actual gold, apparently hoping the material known for its ability to cause amnesia about any food's taste defects will work its magic on Japanese customers. The chain says it's going to award a special box of gold fries to a lucky customer, though outside of a single picture, the chain is offering no additional details about the number of karats, or if there's any chance of it being a Giga-size order of fries (this is called cross-promotion, Mickey D's).And naturally, there's a catch: To win, customers have to download a special app, snap a pic of something real that's vaguely frylike, apply a filter that puts said thing inside a fry carton, and hashtag it. The contest runs through June 7, and while the app's only been available for a day, people in Japan are already going nuts putting their appendages, hair, Pokemon characters, plush toys, and all kinds of other dumb things inside of fry boxes in order to acquire an entry to the lottery:
It's unclear what McDonald's marketing team hopes to achieve, but it's willing to risk people subliminally associating bare feet with the chain's fries in order to have it.