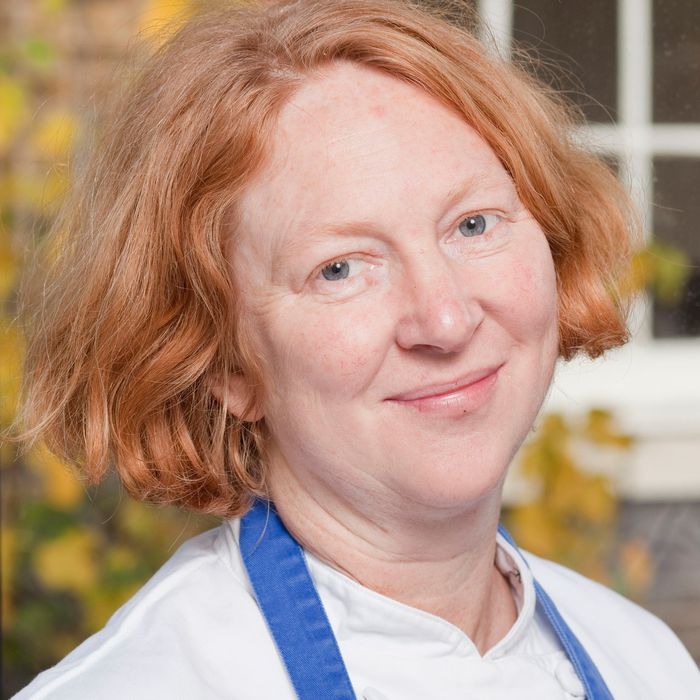 "They're excited about food. I love that about America."
Photo: Dominick Tyler/eyevine/Redux
Margot Henderson is one of London's most influential chefs: She turned an old-school bike shed in Shoreditch into Rochelle Canteen, a beloved restaurant that offers a twist on classic British fare. This week, Henderson is in New York, and Tuesday and Wednesday she's cooking up some of her classic Rochelle dishes — like lamb ragout with polenta — at the Four Horsemen. (The menu is à la carte, and walk-ins are welcome.) Grub spoke to Henderson about London's major culinary moment, what inspires her in New York, and why the Union Square Greenmarket is the "best place in the world."
When did you arrive in New York?
We got here on Thursday, and we've been cooking away at Houseman. We're having a great time.
What made you want to make this trip right now?
I'm cooking at a dinner tonight for Artists Space. It's a nonprofit gallery run by artists for artists. We're doing a dinner tonight for them in the Ukrainian Center, for 250 people. Then I'm doing the pop-up at the Four Horsemen. God knows why. Why do we do these things?
Yes, why? Are you friends with James [Murphy, the co-owner]?
I am friends with Christina [Topsoe, James's wife and business partner] and James. I suppose I was a bit flattered when they asked, and I said yes. It's good to do things out of the box sometimes, isn't it? Put a bit of pressure on yourself. It's fun, but I keep getting all the names for the restaurant mixed up. Anna Tobias is my head chef, and we're going to do service together. I haven't done service in a long time. Night service, evening service. Let's hope we don't mess it up.
Do you know what you're going to cook at the Four Horsemen?
Yup. We're going to roast some lamb and serve it with polenta. We're doing a dish with squid and potato. Mostly dishes from Rochelle — and dishes that we think won't be too difficult to make in that tiny kitchen. We're just bringing Rochelle Canteen to Brooklyn.
For those who aren't familiar with Rochelle Canteen, how would you describe your cooking?
I love that question. It is delicious food. Food from the heart. It's European food, but it's sort of British-based. We're led by the seasons. It's gentle cooking. We celebrate our produce. But we do buy Italian produce as well, not just British. We do a lot of slow cooking and make some traditional British dishes which we love dearly.
Right now the food world seems to be paying attention to London in a way that's quite unprecedented. Do you feel that heat back home?
Yes. I think it swings around. I've been in London for 30 years. Food in London has been getting better and better all along. Also, the city has spread. It's just getting bigger and broader. The food culture is just massive, isn't it? Everyone's talking about food. But the landlords are greedy as hell, and in some ways that's why everyone's been pushed out a bit, so they're going out to different areas. They can't all be in the center anymore.
Internationally, do you still find that the general public dismisses British food?
People cook badly everywhere in the world, don't they? If you don't do it with love, you're not going to have great food. There's beauty in proper, old British food — the simplicity of it. If people say British food is not good, it's just because they don't know.
Agreed. As you're spending time in New York, what's inspiring you?
Just everyone's energy. Everyone's so on it. People just want to help. They're excited about food. I love that about America. And the vegetables are amazing. Union Square is just … I love it. It's the best place in the world. It's a great, great market. I love that you can't buy bananas there.
I went to Gramercy Tavern yesterday. That was a real inspiration as well, because it's such a gentle, lovely restaurant. I could really do without all the loud music, actually. Turn it down! It's just too much. I think it's because everyone is scared there might be a small moment of silence. God forbid. But, in general, New Yorkers are passionate. That is really inspiring. Mission Chinese — I like that a lot.
I just interviewed Dominique Crenn, who won the award for Best Female Chef, which is controversial. Do you think it's necessary to isolate women, or should awards be all-inclusive?
I think it's great. It's helpful. It's inspiring to young women. When I was young, I was inspired by women chefs, like Mary Sue Milliken. I went to San Francisco on my own when I was 24 to pay homage to her. And Alice Waters — all those women, I really looked to them, and I read their books. I think if you can have an award to encourage anyone — the point of all these awards is just to encourage people, isn't it really? And to sell magazines. But who cares about lists unless you're on them? They're all crazy. If you're not on a list, you don't think about it, but if you're in it, you think that's great. But it's a good honor for women. Woman chef of the world! She must be quite proud.
Do you have any desire to open a restaurant in New York?
Yes, I'd love to open a restaurant in New York. Tell everyone. Get me some backing. You need a lot of energy. My youngest is 16, so he hasn't quite flown the nest yet. Soon I'll have loads of time.