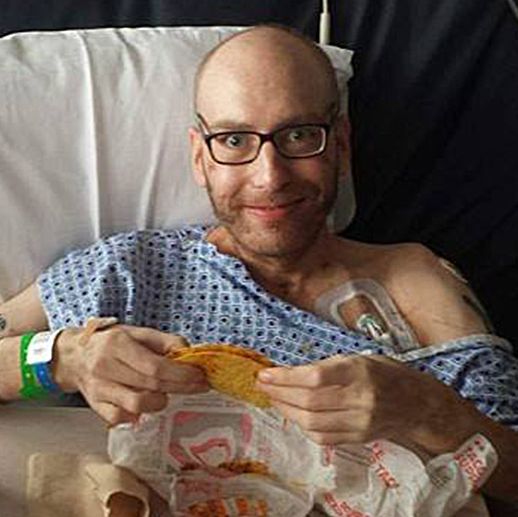 Photo: Wake Up Jake/Facebook
Jake Booth, a 35-year-old Army vet in Florida, got pneumonia real bad in February. He had to be hospitalized, suffered a heart attack, then fell into a coma. Doctors couldn't predict if he'd even wake up, much less how much brain damage he would have suffered if he did — all family and friends could do was watch him lie there, motionless, for 47 days. But then suddenly, on Day 48, he miraculously awoke freakishly aware of who he was. Although he'd had a tracheotomy, he immediately started trying to communicate something important and urgent.
It was four words: "I want Taco Bell."
"He actually said, out loud, 'I want Taco Bell,'" Booth's brother told USA Today's "This Week in Taco Bell" (which, yes, is a recurring feature dedicated solely to news about the chain). "That was the very first thing he said." It took Booth another three weeks before he could eat solid food, which meant he'd endured a 70-day Taco Bell fast at absolute minimum. Doctors cleared him to eat actual food again last week, and USA Today says Booth's waking wish was realized in the form of eight and a half Crunchy Tacos.
Taco Bell learned about this marketing opportunity made in heaven, and wasted zero time shipping over some swag:
Web-video start-up NowThis, meanwhile, cranked out an homage to a lucky man with clear priorities that's racked up several million views so far:
Booth's brother is trying to use their good fortune to raise money for his medical bills and recovery. "I think a lot of people saw that video, and said, 'The guy's eating tacos, what does he need donations for?'" he says. "But the truth is, he has got years of therapy ahead of him. … We want to make sure that people know he is not in the clear." The GoFundMe he set up has currently reached $9,000 of its $50,000 goal.
[USAT]