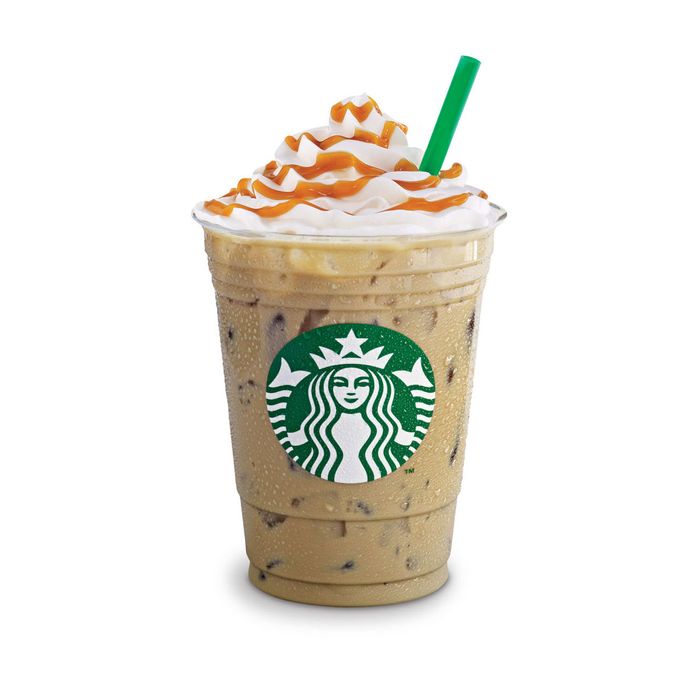 Maybe Starbucks's next drink should just be called the "Goldilocks"? One month after someone sued the coffee chain for allegedly underfilling lattes, another person in Illinois has filed a lawsuit claiming Starbucks overfills its cold drinks with so much ice that liquid only accounts for about half the promised drink size. Stacy Pincus charges that "the word 'beverage' is defined as 'a drinkable liquid,'" and since nobody thinks ice is "a 'beverage' by definition," she alleges Starbucks is purposefully loading drinks up with ice so it can charge customers more for less product. She's also seeking class-action status — all customers who bought iced drinks from the company in the last ten years.
A little-known secret is that the black horizontal lines on the sides of Starbucks's cold cups are actually fill lines for the barista. They hit midway up the cup, meaning the rest of what gets the beverage to the brim is ice. According to Pincus's lawsuit, the math works out to 14 actual ounces of drinkable liquid in a venti (versus the 24 ounces that are advertised) and 12 ounces in a grande (supposedly 16 ounces). The suit also points out that Starbucks charges more money for iced coffee than it does for hot coffee — $2.65 versus $2.10 for a grande — which it says means the chain "is not only underfilling its Cold Drinks compared to how they are advertised, but it is charging a premium price for them as well." (It's worth noting that the price disparity between Starbucks's iced and hot coffee partly accounts for the fact that iced coffee comes "lightly sweetened.")
A Starbucks spokesperson said the company was aware of the suit, and it believes it to be without merit, adding, "Customers understand and expect that ice is an essential component of any 'iced' beverage." The lawsuit is asking for at least $5 million in damages, and also says Starbucks should switch to way bigger cups that can hold the advertised amount of liquid, so if the plaintiffs prevail, get ready for a lot more of this.