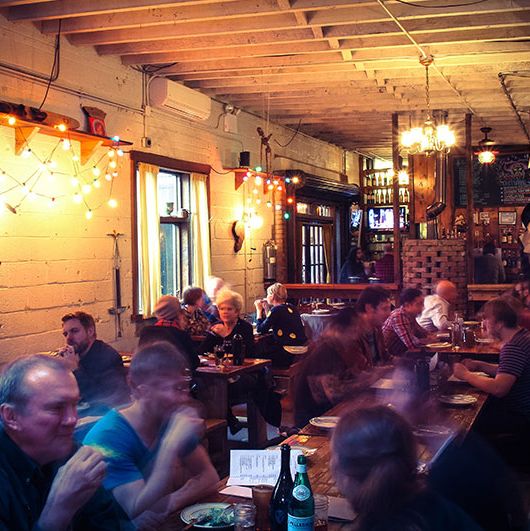 Roberta's will have a DJ and mariachi music, as well as beer and tequila specials.
Photo: Courtesy of Roberta's
If you're just realizing that it's Cinco de Mayo today and you have no plans to speak of, don't give up and settle for drinking wan, watery margaritas all night. Plenty of quality restaurants and bars are hosting parties or serving special drinks and dishes, guaranteeing that with just a little last-minute planning you can have a great time. Here, eight spots around town to eat, drink, and party.
Roberta's
As expected, they're going all out at the Bushwick pizzeria. From 4 p.m. to 10 p.m., there will be a DJ and mariachi music, plus beer and tequila specials.
Grand Army
To celebrate the bar's first anniversary today, the owners have borrowed a frozen-margarita machine and will be serving a special Tex-Mex menu. At sister spot Mile End there will be the usual chicken mole poblano poutine.
Jeffrey's Grocery
From 6 p.m. on, there will be special dishes like a classic cocktail de mariscos and hanger-steak fajitas, as well as cocktails like a twist on the Michelada and originals like the Atlixco (tequila blanco, agave, lime, Tajin chili rim, and ampolleta).
Leyenda
From 7 p.m. to 1 a.m., the Latin-American bar will have $10 drink specials made with Del Maguey single-village mezcal and Partida tequila, plus deals on Del Maguey and Partida spirit tastings.
Streetbird Rotisserie
Marcus Samuelsson's roast-chicken restaurant will celebrate the holiday by opening up its new patio and offering half-off "Tequila Me Softly" pitchers ($24,) pomegranate-mint margaritas for $7, and $5 chicken, pork, or fish tacos.
Gran Electrica
It's an all-day party here, where they're slow-cooking meats in the beautiful backyard, hosting a DJ, and offering drink specials to get you going.
Holiday Cocktail Lounge
At the East Village bar, they're hosting a "nachology festival," an evening of nachos and special drinks. What else could you need?
The Bennett
It's a DIY margarita happy hour at the Tribeca cocktail bar, where from 5 p.m. to 8 p.m. you can tweak the drink with different salt combinations, agave, fruit, and jalapeño.