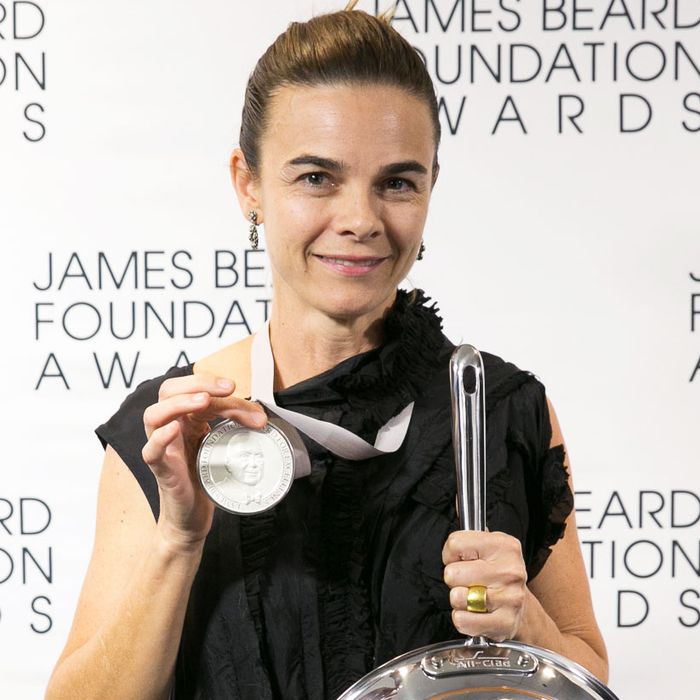 Suzanne Goin took home this year's award for Outstanding Chef.
Photo: Eugene (Huge) Galdones
Tonight, the James Beard Foundation whittled down its list of finalists and honored America's top culinary talent. Some notable winners: Shaya for Best New Restaurant, Maison Premiere for Outstanding Bar Program, Jonathan Waxman for Best Chef: NYC, Suzanne Goin for Outstanding Chef, and Eleven Madison Park for Outstanding Service. Check out the full list below — and congratulations to everyone.
Best Chef: Great Lakes
Curtis Duffy, Grace, Chicago
Best Chef: Mid-Atlantic
Aaron Silverman, Rose's Luxury, Washington D.C.
Best Chef: Midwest
Paul Berglund, The Bachelor Farmer, Minneapolis
Best Chef: New York City
Jonathan Waxman, Barbuto
Best Chef: Northeast
Zak Pelaccio, Fish & Game, Hudson, N.Y.
Best Chef: Northwest
Renee Erickson, The Whale Wins, Seattle
Best Chef: South
Justin Devillier, La Petite Grocery, New Orleans
Best Chef: Southeast
Tandy Wilson, City House, Nashville
Best Chef: Southwest
Justin Yu, Oxheart, Houston
Best Chef: West
Jon Shook and Vinny Dotolo, Animal, Los Angeles
Best New Restaurant
Shaya, New Orleans
Oustanding Baker
Joanne Chang, Flour Bakery + Café, Boston
Outstanding Bar Program
Maison Premiere, Brooklyn, N.Y.
Outstanding Chef
Suzanne Goin, Lucques, Los Angeles
Outstanding Pastry Chef
Dahlia Narvaez, Osteria Mozza, Los Angeles
Outstanding Restaurant
Alinea, Chicago
Outstanding Restaurateur
Ken Friedman, The Spotted Pig, The Breslin, Tosca Café, NYC
Outstanding Service
Eleven Madison Park, NYC
Outstanding Wine Beer or Spirits
Ron Cooper, Del Maguey Single Village Mezcal, Ranchos de Taos, NM
Outstanding Wine Program
Bern's Steakhouse, Tampa, FL
Rising Star Chef of the Year
Daniela Soto-Innes, Cosme, NYC
The 2016 James Beard Foundation Outstanding Restaurant Design Awards
75 Seats and Under (TIE)
Firm: Demian Repucci Design
Designer: Demian Repucci
Project: Bruno, NYC
Firm: Renzo Piano Building Workshop
Designers: Renzo Piano Building Workshop in Collaboration with Cooper Robertson and Bentel & Bentel
Project: Untitled, NYC
76 Seats and Over
Firm: Land and Sea Dept.
Designers: Mode Carpentry, Land and Sea Dept. (Robert McAdams, Jon Martin, Peter Toalson, and Cody Hudson)
Project: Cherry Circle Room, Chicago