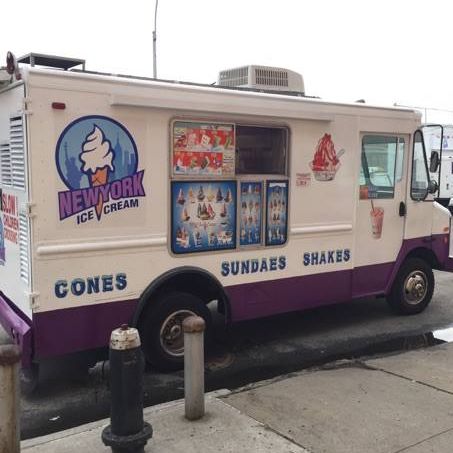 They will stop at nothing.
Photo: Newyorkicecream/Facebook
This is almost certainly the most extreme chapter in New York's long, ruthless soft-serve turf wars. According to a report in the Times, a radical splinter group of former Mister Softee vendors known only as the New York Ice Cream Company has claimed the crucial midtown territory exclusively for themselves. While vendors with permits can legally sell anywhere in the city, this new soft-serve cabal has strong-armed Mister Softee out of the neighborhood over the last year through threats, bullying, and physical intimidation.
In fact, one anonymous NYICC vendor tells it exactly like it is, claiming that the stretch of Manhattan "from 34th to 60th Street, river to river" belongs to his company now, adding, "You will never see a Mister Softee truck in Midtown … If you do, there will be problems, and you won't see him there very long." Peter Bouziotis, who runs a Mister Softee depot in the Bronx, says this is more than an empty threat, and explains that whenever his drivers dare go into midtown a gang of their rivals boxes them in and bangs on the truck's windows, letting them know who can sell cherry magic shells where.
While Mister Softee's leadership wants its drivers to retake midtown, vice-president Jim Conway says they have not sought out legal solutions because they respect the code of the streets. Yes, New York's ice-cream vendors like to act like it's all fun and cones, but their innocent veneer obscures a more sordid history. Behind the soft serve, one Softee truck operator claims, there's always a bat. Incidents of ice-cream-related violence go back to at least the '60s.
There is also the fact that, more recently, Mister Softee was the one doing the bullying: Back in 2012, Softee vendors were accused of slashing tires, pointing guns, and cutting the brakes on trucks run by another splinter group, allegedly going as far as sending death threats to the founder of new-school ice creamery Van Leeuwen.
The particular beef with New York Ice Cream Company dates back to 2013, when Mister Softee sued the impostor trucks operated by NYICC founder Dimitros Tsiroks, who originally had a dozen Softee franchisees but became disenchanted with his ice-cream overlords. He made minor changes to the logo and called his business Master Softee, but was accused of trademark infringement, hence the change in name. A judge sided with Mister Softee, and Tsirkos owes the company $767,000, though he's apparently only coughed up a meager $2,246. If this summer really is as oppressively hot as some experts predict, the stakes — and tensions — are only likely to rise further, and this could be the year that the city's soft-serve skirmishes turn into full-blown, all-out chocolate-dipped warfare.
[NYT]