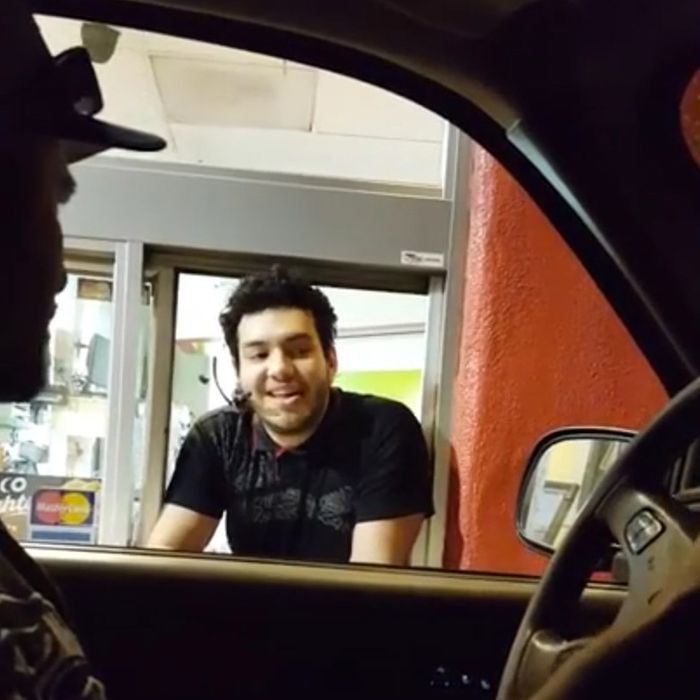 Two Del Taco drive-through customers in Arizona have gifted the internet with a gloriously epic customer-service fail after they requested extra sauce and instead got an F-bomb-laden rant from an utterly self-unaware manager. Things start normally enough — a miscommunication of some kind — but by the time they reach the window, the situation has escalated. What unfolds once the manager saunters over and asks why "the 'tude about the fucking sauce" is an instant classic. They threaten to post the exchange online, but he cannot contain his glee at their stupidity:
Manager:Where you going to post it, YouTube? No one's going to fucking see it. Where you gonna send it to?

Customer: To your boss, duh.

Manager: I am the boss. My dad's actually the fucking owner, so good luck with that.

Customer: Okay. Well, we can close you down, you know that right?

Manager: Dude, I've done this a billion times. You guys give me shit all the fucking time. And I'm not talking about you specifically, I'm talking about you as the customers. So how long you guys want to do this? Like five minutes? An hour? I can do this all fucking day.
It gets even better. A minute and half in, he moves on to explaining why he puts up with such horrible people in the first place: "This is my fucking fortune right here. Why would I quit? Do you know how much of a pot of gold this is?"
The original video has since been removed (which was on Vimeo), but it's already popped up in several new places, including, of course, YouTube:
As the clip shows, the two customers eventually realize there are more important things in life and drive away, but they win the war: Del Taco quickly made it clear that the franchisee (a.k.a. "Dad") "took definitive action by terminating the employee immediately."
[Kobe D/Vimeo via NYDN]