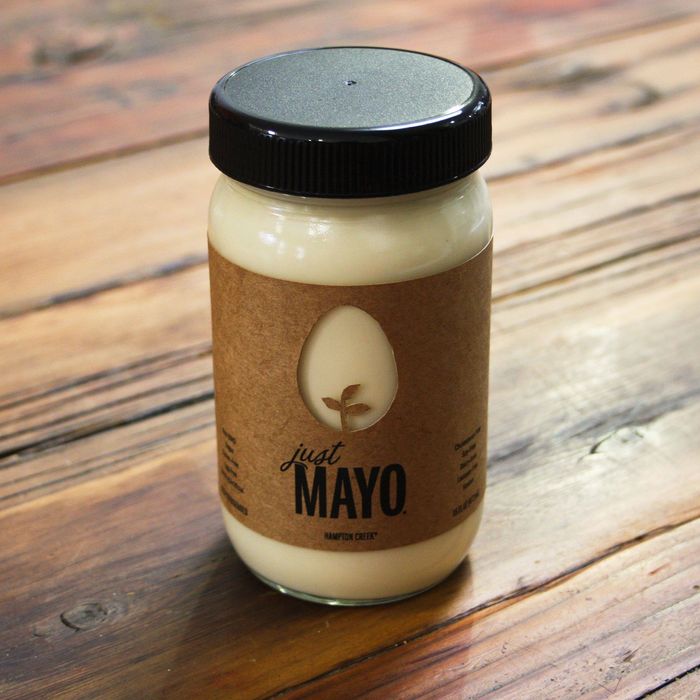 Vegan mayo is here to stay.
Photo: Courtesy of Hampton Creek
It's been a banner year for meat-free proteins, with Silicon Valley investors dropping millions into bunches of promising vegan-friendly start-ups. And now a new report from Bloomberg says the vegan-food-tech world could soon have its first billion-dollar company in Hampton Creek, the maker of Just Mayo vegan spread. The company is looking to raise another $200 million in capital so it can expand its current line of 64 products into a full-on meatless empire totaling more than 600 items.
New products could include pantry staples, desserts, and pasta, and Bloomberg says the pitch to investors also teases massive expansion plans: The San Francisco–based company wants to build a 95,000-square-foot R&D; lab that will hunt for new plant-based proteins using robots, while also employing a team of scientists who analyze more than 960 samples per week. Just Mayo is Hampton Creek's runaway best seller right now (it's everywhere from Whole Foods to Walmart and 7-Eleven), but the company envisions many more new meatless firsts. Per Bloomberg:
Future plant-based offerings could include Just Chicken Tenders, Just Oysters and Just Blue Cheese, the documents say. A line of snacks aimed at kids would feature an egg substitute in a microwavable pod that cooks into the shape of a superhero, a set of Legos, or even a toy car. "Upon microwaving," the presentation says, "it surprises the kid by forming a new shape each time: Batman, Darth Vader or a different character." The Batman- and Darth Vader-shaped snacks would have a "light and airy" texture and come in "nacho" or "grilled cheese sandwich" flavors.