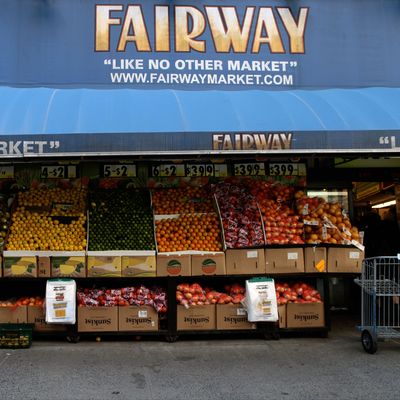 Fairway has racked up $267 million in debt.
Photo: Oliver Morris/Getty Images
As rumored would happen, Fairway has reached its last resort. The grocer filed for bankruptcy protection on Monday, after losing $300 million in five years, racking up $267 million in debt, and generally squandering its role as one of New York's favorite hometown grocers. (Not that increased competition from Whole Foods and Trader Joe's helped.) According to a statement released by the company, Fairway Group Holdings Corp. will restructure the company's finances under a joint prepackaged chapter 11 plan of reorganization. Under the plan, Fairway says, its 15 stores will continue to operate — contrary to suggestions in April that some of the poor-performing stores could close — and employee wages, benefits, and other obligations will be paid on time. Fairway CEO Jack Murphy is, of course, heralding the move as the company's best opportunity to get out of this mess intact, but it's hard to feel optimistic about the company's odds given its epic collapse, misguided management in recent years, and stiff competition.