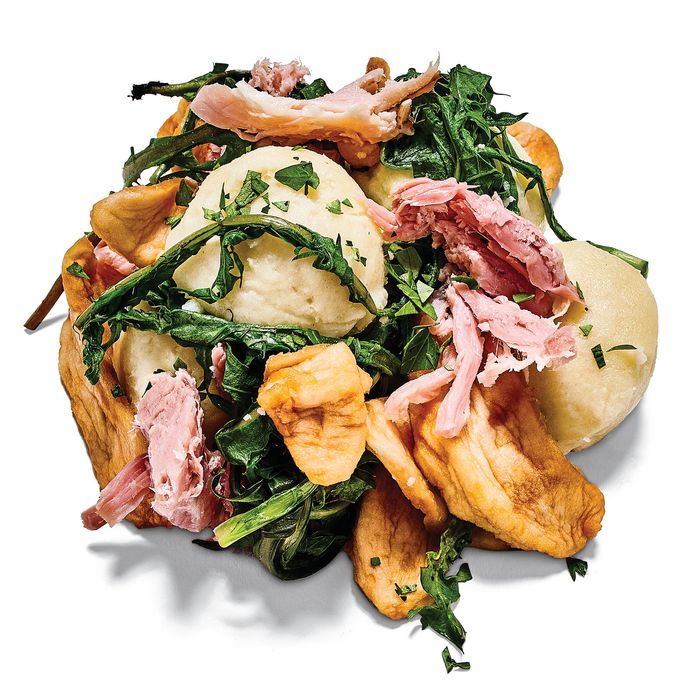 Delaware and Hudson's schnitz und gnepp.
Photo: Bobby Doherty/New York Magazine
Schnitz und gnepp is one of those dishes that tastes as good as it sounds. The Pennsylvania Dutch specialty of ham and dumplings mingled with pieces of dried apple has turned up on the menu at the new tavern expansion of Patti Jackson's Delaware and Hudson restaurant alongside a pastry-free chicken potpie and a Scranton-style Coney Island Texas wiener. Jackson, who hails from Clark's Summit in Lackawanna County, about six miles outside Scranton, says that schnitz means "slices" — in this case, apples. Gnepp, which translates to "a pinch," refers to the way the dumplings are formed by pinching small pieces off a hunk of dough. Ham, for some reason, gets no opening credit but nevertheless plays just as important a role.
Mouse over or tap the image to read more.
On the menu at Delaware and Hudson Tavern; $14; 135 N. 5th St., nr. Bedford Ave., Williamsburg; 718-218-8191
*This article appears in the May 16, 2016 issue of New York Magazine.