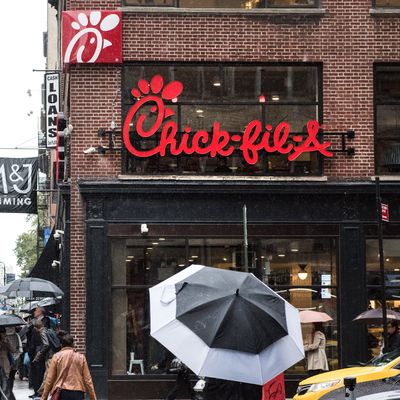 Don't go, says de Blasio.
Photo: Andrew Renneisen/Getty Images
Chick-fil-A's New York invasion has finally gotten real enough to trouble the mayor. The chain's third New York City location will land at Queens Center Mall this fall, and Chick-fil-A's growing footprint is starting to frighten city officials in general, and Bill de Blasio in particular. Not because the first stand-alone location was closed over health concerns, or because Chick-fil-A's sandwiches aren't nearly as good as some of NYC's excellent roster of homegrown chicken sandwiches, but because the mayor still takes issue with the owners' history of anti-LGBT policies. Per DNAinfo, he told reporters Tuesday, "What the ownership of Chick-fil-A has said is wrong," adding, "I'm certainly not going to patronize them and I wouldn't urge any other New Yorker to patronize them. But they do have a legal right."
The Queens location is still months from opening, but Councilman Danny Dromm, who's gay, says it's nevertheless time to boycott. Dromm held a completely unrelated press event of his own yesterday criticizing Chick-fil-A for "forcing their employees and volunteers to adhere to a policy that prohibits same-sex love," and for funding anti-LGBT organizations. "It is outrageous that Chick-fil-A is quietly spreading its message of hate by funding these types of organizations," he said.
A Chick-fil-A rep simply reiterated that the chain's new culture is "to treat every person with honor, dignity and respect — regardless of their beliefs, race, creed, sexual orientation or gender."
[DNAinfo]